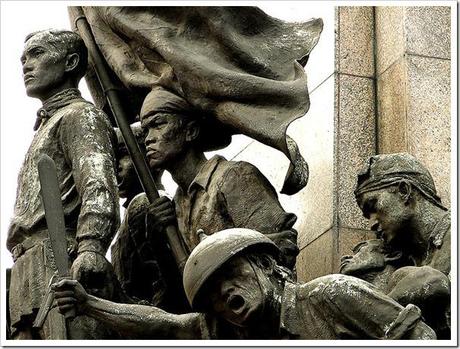 On June 12, 1898, the Act of the Declaration of Independence from Spanish colonial rule was read publicly in Kawit, Cavite by General Emilio Aguinaldo, president of the First Republic of the Philippines. It was also the first time that the national flag of the Philippines was unfurled, and the national anthem, Lupang Hinirang, then a wordless march called Marcha Filipina Magdalo, was played.
Neither the Spaniards nor the Americans recognized this declaration. Spain ceded the Philippines to American rule by virtue of what ended the Spanish-American War, the 1898 Treaty of Paris. It was only in July 4, 1946 that the Philippines signed a postwar Treaty of General Relations with the the United States. It meant that the latter is recognizing the sovereignty of the former but still retaining military bases, such as key ones in Clark and Subic.
In terms of the economic affairs, the Philippines was not independent either, especially with the passing of legislation called Bell Trade Act, which among key points, prohibits the manufacture of products that might be of competition to the United States. It also meant that the United States required the Philippines to amend its constitution, so Americans would have equal access Philippine minerals, forests and other natural resources. It was said that the Philippine government was pressured to pass the bill in exchange of postwar assistance.
While concrete independence came in 1946, also on the Fourth of July, the Philippines recognizes July 12th as its Independence Day or Araw ng Kalayaan by virtue of Republic Act No. 4166 signed into effect in 1964 by then President Diosdado Macapagal.
The Philippines, a democratic republic, is not however spared from those who tried to seize freedom. Notably, the country was placed under a dictatorship by Ferdinand Marcos, who placed the Philippines effected martial law in 1972. The Marcos regime ended in 1986 with a peaceful movement, the EDSA People Power—a true hallmark of freedom and democracy.
Filipinos are a race of heroes, fighting with so little compared to their enemies. Our forefathers have fought the longest battles with makeshift weapons and the most inspiring words, and our contemporary heroes have fought violence with peace.
While there are still threats to the independence in our country, it is in this day on the twelfth of June do we remember those who have fought and spared their lives to achieve freedom and safeguard it for their countrymen.
Mabuhay ang kalayaan sa Pilipinas! (Long live the freedom in the Philippines!)
Pictured above are Andres Bonifacio and the Katipuneros. Photo credit goes to ~zymon~.