I must admit my tardiness on reviewing this product – I'd actually gotten it last year around Nov/Dec at The Body Shop Winter Trend Workshop, but was too busy using it that I never got around to writing out my entry on this. (It's the same thing that happened with my Dermalogica Daily Microexfoliant – after about 9 months of using it, I finally gave birth to a product review hurhurhur).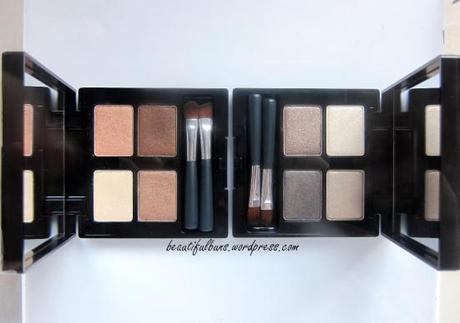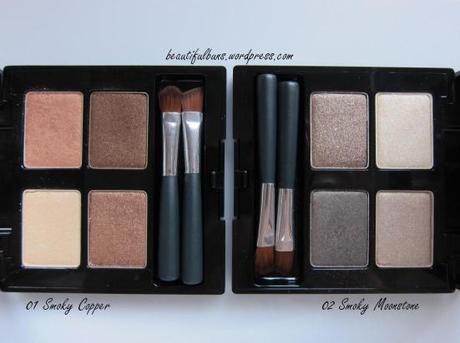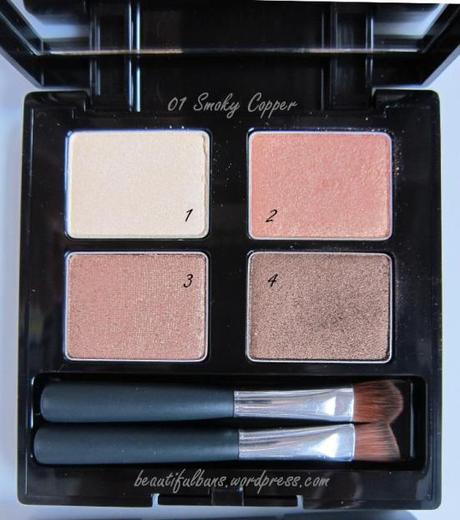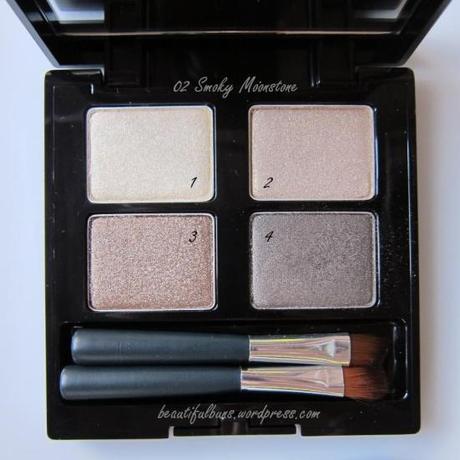 I say…
A girl can never have too many smoky palettes – I kid you not. Somehow, the newcomers always seem to supercede the old ones in terms of performance. Also, there are times when your face just becomes the shits, and the usual colours don't flatter your skintone any longer.
At first glance, I'd totally go for 02 Smoky Moonstone. After swatching, my preference is still the 02 Smoky Moonstone.
01 Smoky Copper has warmer hues – the base colour is peachy, 2nd shade is pinkish, 3rd shade is reddish brown whilst the 4th shade is deep warm reddish brown.
02 Smoky Moonstone has pearlier/whiter hues – the base colour is a silvery colour, 2nd shade is champagne, 3rd shade is brown whilst the last shade is a deep dark blackish brown.
For a day smoky look, go for 01 Smoky Copper.
For a night full-on "Who's your momma" smoky diva look, go for 02 Smoky Moonstone.
The colour intensity is average – just 1-2 layers is enough for the colour to show.
They also last for an average amount of time – about 2-3 hours.
Plus, it comes with 2 types of applicators – the blending type and the angled type (so that you can use the dark colours as an eyeliner).
On the whole, the powder grains are fine enough, but flaking is quite commonplace. I found myself having to remove the fall-offs several times while doing one eye. This is slightly disappointing, considering that I could apply my Hanskin eyeshadows with no base and the fall-off was minimal.
However, I think this can be rectified if you apply a primer base such as MAC's Paint Pot in Painterly  (speaking of which, I've bought several from Korea and not opened them yet. Tsk, the dilemmas of being a serial shopper and hoarder).
This is a pretty decent palette which I would keep in the office for times when there are last-minute events and I have to paint a decent face for the world to see. However, for at-home preps, I'm still sticking with my usual palette (which is coming up within the next few days – my all-time favourite Bobbi Brown palette

)