I'm a huge fan of The Body Shop. I remember its Vitamin C face mist being one of my very first skin care products I bought myself as a teenager years ago. Even after trying so many different products and brands as an adult, I still have a fond place in my heart for The Body Shop.
I live out in the country and have no access to any actual store of theirs; the nearest store would be around a 3 hour from where I live which is why I am really thrilled to know that I can actually enjoy The Body Shop At Home right in the comfort of my own home! The Body Shop At Home basically stocks the same amazing products and offers the same indulgent pamper treatment as The Body Shop but with the convenience of being in your own home! You can have a VIP spa experience, buy directly from The Body Shop At Home consultant, enjoy discounts and offers from hosting your own pamper party etc.
The Body Shop At Home Strawberry Heart Tin
The Body Shop At Home recently send me this adorable Strawberry Heart Tin featuring the Strawberry Body Butter, Strawberry Body Polish, Strawberry Shower Gel & Strawberry Born Lippy. All I can say is I could smell strawberries before I even tore open the parcel it came in.
 
A little strawberry love affair...
I absolutely love the Strawberry range. My love affair with the strawberry range actually started when my mom gave it to me for use during our stay at her house. It was a sample size and it smelled so beautiful; I used only the bare minimum each time, trying to savour every drop in it... only to find out one day that my husband had been using it to wash his feet. Yes, undeserving feet! D'oh! Dramas aside...
The strawberry range is rich in Vitamin C and antioxidant compounds with strawberry seed oil that provides omega 3 and omega 6 fatty acids - ultra skin goodness!
My favorite product of the lot had to be the
Strawberry Body Butter
. Just look at the beautiful creamy luscious texture... and not to mention, the beautiful strawberry scent. I have used their body butters before and this one is consistent with what I have come to expect of their body butters. I love its creamy yet light texture that absorbs easily into my skin. The scent also lingers for a while. The
Strawberry Born Lippy
is a glossy and moisturising lip balm with again, that sweet fruity flavor. I love the subtle red tint it gives my lips; it is very easy to apply, very fuss free, perfect for the busy mornings when I have but minutes to slap something on my face.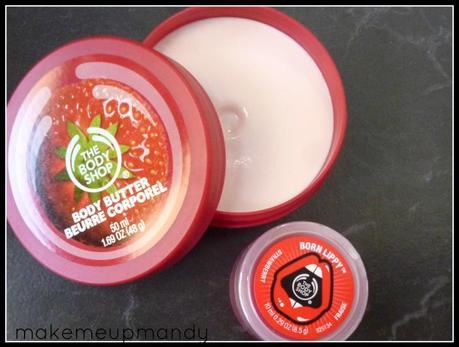 The
Strawberry Body Polish
is another winner for me; I really like how you can see the strawberry seeds in it. It is a refreshing gel-based body polish and lathers up to gently exfoliate. I love that I can actually feel the strawberry seeds on my body; it is very unique and I don't have a body polish like that! Again, the strawberry scent lingers longer after my shower.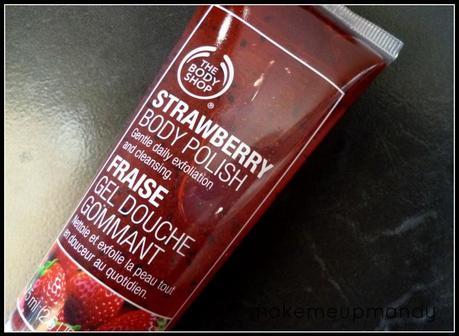 The
Strawberry Shower Gel,
which began my love affair with this range, continues to take top spot in my shower caddy. I am a shower gel lover, mind you, I have more than 5 different bottles and brands of different sizes at current count. The thing I love about this shower gel (besides its lingering sweetness, once again) is how smooth it makes my skin feel. My skin feels really moisturised each time I use it, it really nourishes my skin and my skin does well even before I apply any body butters or moisturisers.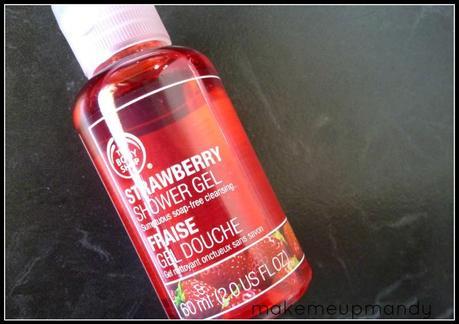 Exciting giveaway...
The Body Shop At Home has very kindly offered an awesome $200 prize pack for one lucky reader of mine. This prize pack will contain a variety of The Body Shop At Home products that could include heritage products including gorgeous body butters, new editions from their Vitamin E range and old favourites that have recently be re-introduced including their Brazil Nut range. The prize pack will be a bit of a surprise but you can be sure it will be full of The Body Shop At Home goodness!

-please note the photo is just a representation and not an exact image of the prize pack-
I would also like to take this opportunity to highlight opportunities available with The Body Shop At Home as consultants. As a mum, I definitely understand the difficulties in juggling family and work and the importance of having flexibility. If you would like to know more information and perks that come with being a consultant, do have a look at this link.
Or if you would like to book a pamper party for an upcoming birthday or just a cosy girly meet up, do visit The Body Shop At Home website.
As always, just follow the Rafflecopter prompts to enter. Good luck!
*Sorry this is an Australia only giveaway*
a Rafflecopter giveaway
*I received the Strawberry Heart Tin courtesy of The Body Shop At Home for this review. My opinions are honest and genuine as always!