Whether you're traveling and exploring a new city or will simply be up and about on your feet, get yourself a pair of the best shoes for walking around all day.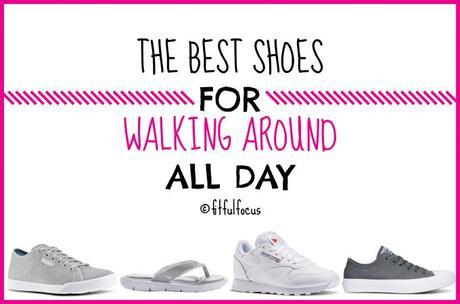 A week from today, I'll be heading to the airport for a nice long vacation in Europe. Will and I are hitting up London, Brussels, Nice and Paris. EEK! I can barely contain my excitement!
I did a bunch of planning and found some great free walking tours throughout each city. Add that on top of my Walk Rule, and I'm sure we'll be racking in the steps and staying active while on vacation.
Since we'll undoubtedly be on our feet a lot each day, I want to bring my comfiest shoes. Of course, I still want to look fit & fashionable for my European galavanting, so I put together a list of all my favorite comfy shoes that will keep my tootsies happy while I walk around all day.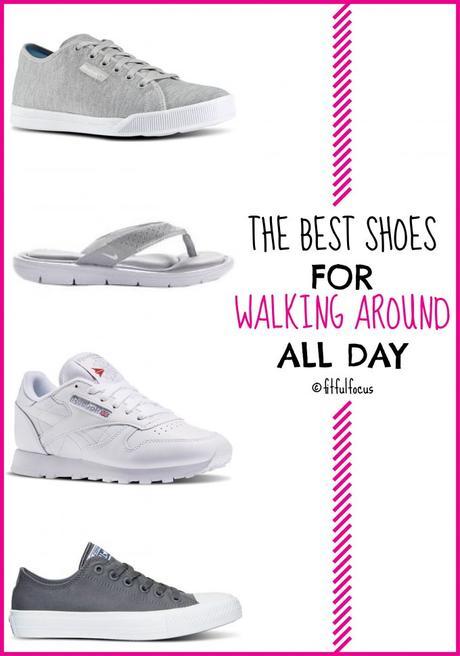 Reebok SkyScapes - These shoes are the best things ever made. I have a pair in a cool blue print and they are seriously the most comfortable things of all time. They're like little pillow for your feet. They also come in a ton of different colors, which only means one thing: a pair for every outfit!
Nike Women's Comfort Flip Flops - I have these flip flops in pink and they've become my go to's after long runs. They're so cushy. I put my feet in them and just sigh with relief. While flip-flops in general aren't the best to walk around all day in, if your just going to be standing around, are heading to the beach or want to recover after being on your feet all day, these are perfection.
Reebok Classics (Leather) - Not only do these kicks look awesome, but they are hella comfortable. They provide a ton of support and will keep those feet happy through hours of walking, touring and exploring. A closet must.
Converse Chuck II Low Tops - Who doesn't love a good pair of Chucks? The Chuck IIs provide extra support and the canvas nature of the shoes means they'll stretch and mold to your feet over time, which equals ultra comfort.
I own all of these shoes, and they're all amazing. Now I just need to make sure I have room in my suitcase for all of them!
What's happening with you on this fine Fit & Fashionable Friday? Share your fitness, healthy living and/or fashion related posts below ( full link up rules here)!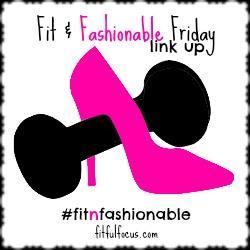 Let's Chat:
What shoes do you wear when you know you'll be on your feet all day?
Any travel tips for London, Brussels, Nice or Paris?