Having French Onion Soup as a side dish or your main dish is quite healthy, it not only does favours to your body and keeps you healthy but the person himself / herself also feels quite revitalised. This French Onion Soup recipe is quite easy to make. Employing these colors in your diet is the right step forward not only does it detox your body and is easily digestible, plus it just tastes divine. This French Onion Soup is makable by anyone and suitable for everyone. French Onion Soup are one of those side dishes that can change the entire taste of your everyday meal. This T.G.I. Friday's French Onion Soup is a side dish that can also be enjoyed on its own as well as with any meal (e.g. your healthy lunch meal).
Ingredients:
2 Tablespoons butter or margarine
4 cups sliced onion
3 cups beef broth
1-1/2 cups water
1 Tablespoon cooking sherry
1 Tablespoon Worcestershire sauce
1/4 teaspoon black pepper
1 dash dried thyme
1 cup soft croutons
1/2 cup shredded mozzarella cheese
Directions:
Melt butter in saucepan over low heat.
Add onions and cook 20 minutes, stirring occasionally.
Add beef broth, water, sherry, Worcestershire sauce, pepper, and thyme to pot.
Increase heat and bring to boil, then reduce heat.
Cover and simmer for 5 minutes.
Divide into bowls.
Top with croutons, then mozzarella.
 Broil until cheese melts and begins to brown.
Enjoy!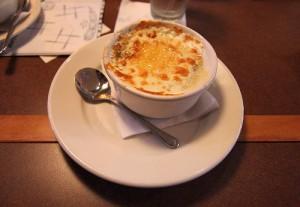 Photo by: Sam Howzit