If you've read my review of May's Amarya Beauty Box then you're probably already aware of my current love affair with French brand Terre d'Oc. I love natural beauty products which don't contain harsh and unnecessary chemicals and I'm always on the lookout for great natural brands. Terre d'Oc is such a brand.
My most recent purchase has been the Terre d'Oc Antipollution Foundation which I purchased through Amarya. I was nervous about parting with £24.95 for this product for three reasons. Firstly I couldn't find any reviews for it online. Secondly I am not a fan of liquid foundation...at all! I haven't used it for years as I find it aggravates my acne prone, sensitive skin. Thirdly it comes in one color which is very unusual for a foundation.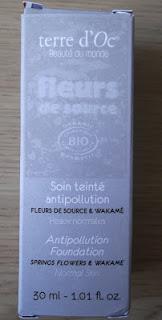 My fears were completely unjustified though. This foundation is non-comedogenic which means that it doesn't clog pores which is a huge plus for an acne sufferer! The color is absolutely perfect for my pale Scottish skin. Terre d'Oc describe it as a "rosy-beige" which I think is pretty accurate.
It melts beautifully into my skin and lasts all day. Once it's on I can't feel it at all and I look like I don't have any foundation on. I really feel that it enhances my natural complexion rather than covers it. It comes in a relatively small 30ml bottle but a little goes a long way.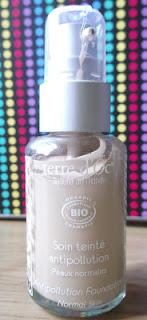 The reason it's called an "antipollution" foundation is because it contains wakame seaweed which apparently protects the skin from pollution. I don't know if this is true but I do know that wakame is a superfood which is great for your body.
I'm a sucker for a great brand story and I love the story behind Terre d'Oc. All the makeup is inspired by ancient traditions from around the world which have been passed from mothers to daughters for centuries. The Antipollution Foundation is inspired by Japanese traditions.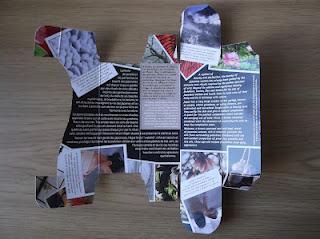 The packaging opens out like origami!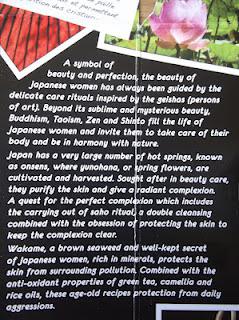 The foundation as described on the gorgeous packing.
Listen to this description for their lipsticks....
"In Morocco, women us an aker, a small terracotta pot bowl covered in poppy powder and pomegranate bark to color their lips a deep sensual red. Inspired by Moroccan women's makeup, a collection of lipsticks in essential and natural shades, combining argan oil and butter to nourish and highlight the lips."
Sounds gorgeous right? You know what MAC have in their lipsticks? Carmine. Know what carmine is? Processed insect scales...just saying.
I will definately be purchasing more items from Terre d'Oc and I would recommend this foundation to anyone with pale skin who likes a natural, dewy, youthful look.