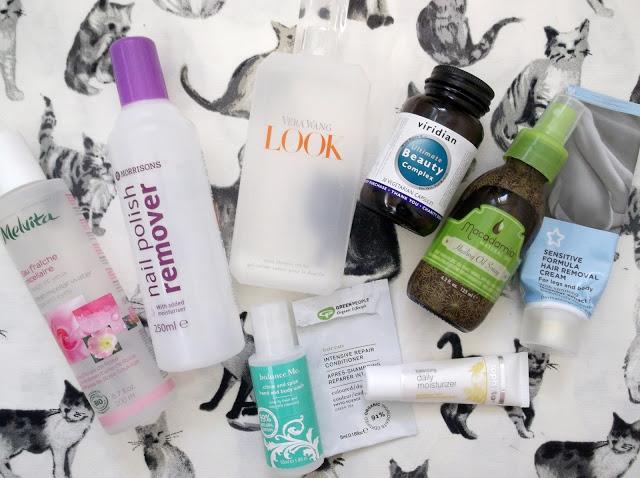 This month's empties post is a little bit later than usual. We've had a bit of a
family emergency which has kept me out of the blogosphere for a few days but things are starting to get back to normal now.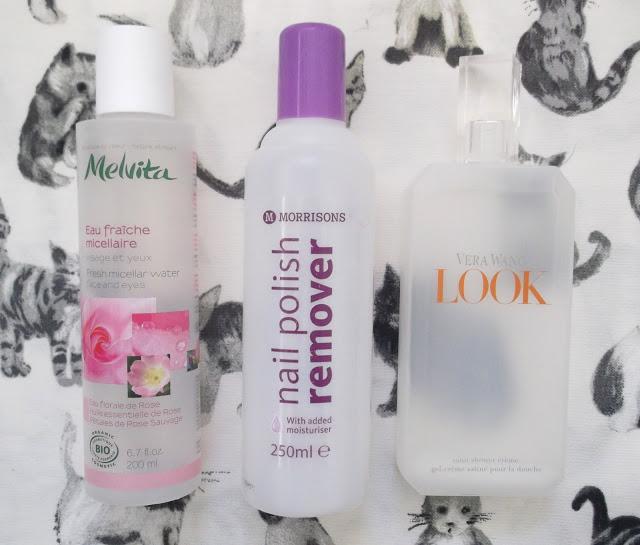 Melvita Fresh Micellar Water
I've mentioned this product already in
this
Swap It Sunday post, so I won't repeat myself too much here. I enjoyed using this product, although I do think micellar waters are just glorified eye makeup removers. If I were to buy one again though, I'd go for the Nuxe one over this one.
Repurchase?
Probably not.
Morrison's Nail Polish Remover
This stuff is rubbish and it isn't cruelty free, enough said!
Repurchase?
No.
Vera Wang Look Shower Creme
I received this as part of Christmas gift set last year. It isn't cruelty free so I won't be purchasing it again. I'm not really into heavy, artificial smells anyway and even though Vera Wang Look is on the lighter, more citrus-y end of the scale, it's still too perfume-y for my taste.
Repurchase?
No.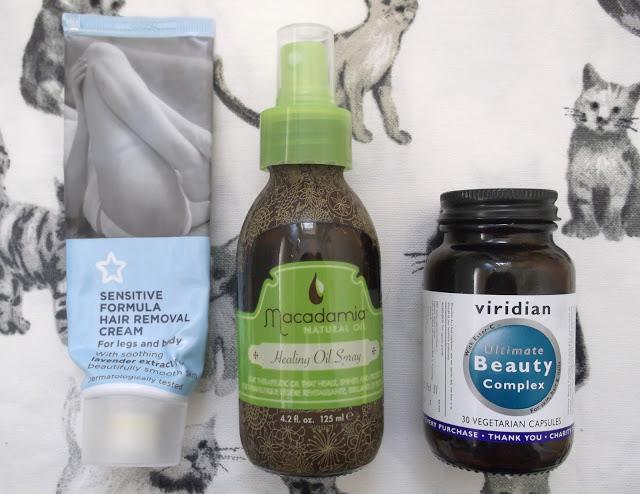 Superdrug Sensitive Formula Hair Removal Cream
Hair removal creams have been my prefered hair removal method for years now. I used to use Veet or a supermarket own brand cream, but since going cruelty free I've been looking for an alternative. This Superdrug version is perfect. It's BUAV approved and works just as well as anything the likes of Veet have to offer.
Repurchase?
Yes.
Macadamia Healing Oil Spray
I picked this up in TK Maxx a couple of months ago after hearing so much about it, and honestly, I have no idea what all the fuss is about! It does calm down the frizziness of my hair a fair bit, but it's nothing mind blowing and I've used products which have done the job a lot better. My main beef with this product though, is the horrendous smell! It's very heavy, manly and generally unpleasant in my opinion. I personally think
this
hair oil spray from Hairy Jane is a million times better.
Repurchase?
No.
Viridian Ultimate Beauty Complex*
I raved about these supplements recently
here
so I won't go on about them too much again here. Suffice to say that I've been really pleased with the result they've given me so far, and I'll be continuing to take them for the foreseeable future.
Repurchase?
Yes.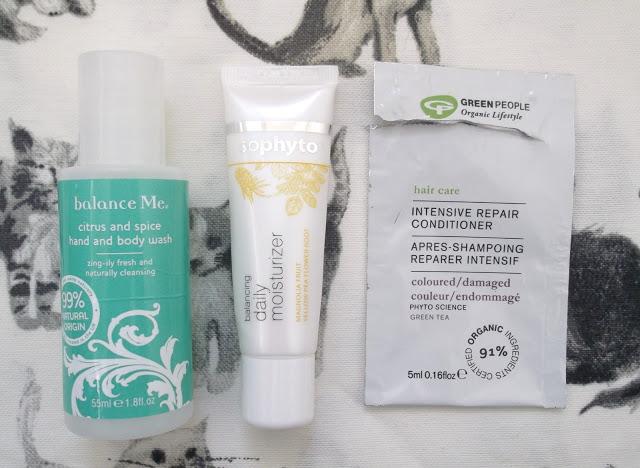 Balance Me Citrus and Spice Hand & Body Wash
I received this product in this
Amarya Beauty Box
. I really liked the combination of citrus-y grapefruit and orange with spicy ginger.  I haven't smelt any beauty product quite like it to be honest. It makes a change from every product  I use smelling of roses, as much as I love roses!
Repurchase?
Yes.
Sophyto Balancing Daily Moisturiser
This product came to me in this
Amarya Beauty Box
. Having oily skin means I like to use a balancing moisturiser in the morning and save the heavier products for nighttime. This Sophyto moisturiser done the job well enough. I wasn't a huge fan of the no smell-smell this had though, as much as I hate strong artificial smells! I think I prefer Balance Me's balancing moisturiser to this one.
Repurchase?
No.
Green People Intensive Repair Conditioner
I received this free sample with an order from Naturissimo. It's difficult to get a really good feel of a product from a 5ml sample, but from the two applications I did get from this I liked the results I got.
Repurchase?
Yes.
I hope everyone's having a great July so far, and happy 4th of July to my lovely American readers!