I've been in a bit of a blogging funk recently. I have loads of great ideas, but not the energy or ethusiasm to carry them out. I'm blaming looking after my foster kitten Albert. He needs 24/7 care and it really is exhausting!
I'm going on holiday for a week on Friday though, and one of my colleagues is going to look after Albert for me. I'm looking forward to a much needed break, and getting back into the blogging swing of things!
I'm currently taking part in a collaboration with UK based company
Prairie Charms
, to bring you a series of fun blog posts. The first will be this jewelry TAG style post which I really enjoyed doing. It's definitely helped me to find blogging fun again!
Prairie Charms is a handmade accessories boutique with products ranging from blinging, glitter hair bows and floral crowns to boho braided bracelets. They donate 10% of their profits to Great Ormand Street Children's Hospital, and I'm delighted to be working with them.
Below are the jewelry TAG questions and my responses. I hope you enjoy reading them!
Q1) Describe your jewelry style in three words?
Subtle. Classic. Vintage.
Q2) What was your first piece of jewelry? if you bought it yourself, why did it stand out? if it was a gift, what was it for?
The first piece of jewelry I remember having is this silver Calvin Klein watch with diamonds around the face. My Dad bought me it as a special present for my 16th birthday. It was never off my wrist as a teenager, I loved it!. I still love it now, although I wear it more now as a slightly scratched and battered retro piece rather than as my 'fancy watch'!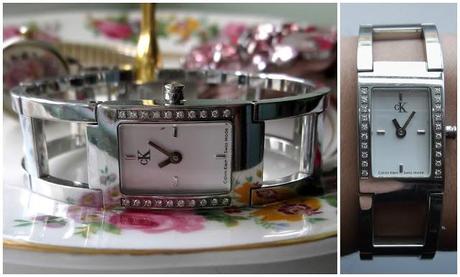 Q3) What is your most meaningful piece of jewelry?
I have a few, but one which stands out is this rose gold Laura Lee ring. My boyfriend bought me it as a birthday present one year. It's a simple band with
Rien Que Toi, Moi, Nous
, engraved on it. It translates as
Nothing But You, Me, Us
. It's special to me because whenever one of us is going through a bad time the other will say, 'Remember it's nothing but you, me, us'.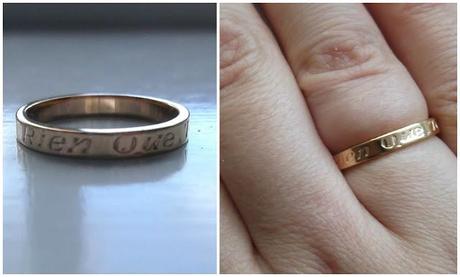 Q4) What is your jewelry style, or do you own an eclectic mix?
I'm really into vintage, or vintage style pieces and I rarely deviate from that. I have a couple of high street statement necklaces, but I rarely buy jewelry from the high street.
Below is a little snapshot of some of my most recent vintage finds.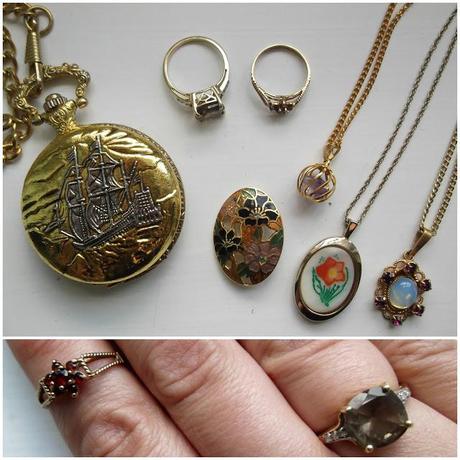 Q5) What is your favorite type of jewelry, or is there a type that you've never got along with?
I'm alway drawn to rings and brooches because I find them easiest to wear. My job is very active so on a day to day basis I can't wear dangly, fussy necklaces, bracelets or earrings. Outside of work though, anything goes!
I used to really struggle with earrings and I found that they were really painful to wear. I eventually found out that I was allergic to the cheaper metals that the high street use for jewelry. Now I only wear silver, gold or rose gold earrings and have no problems at all.
Q6) Whose jewelry box would you love to raid and why?
Without a doubt, that would be Elizabeth Taylor's. I love old Hollywood and no old Hollywood actress was more glamorous than Elizabeth Taylor! Her collection of diamond jewelry is simply stunning, and the stories behind some of her best known pieces are fascinating. I highly recommend her book,
Elizabeth Taylor: My Love
Affair With Jewelry
.
Q7) Silver or gold? Are you someone who loves one and hates the other, or do you like a variety of colours?
I'm definitely more drawn to gold or rose gold pieces. I find them more flattering on my skin tone than stark silver. That being said, I love to mix metals. One brand who do this to great effect are Magnolia. Below is a little selection of some of my mixed metal jewelry from Magnolia.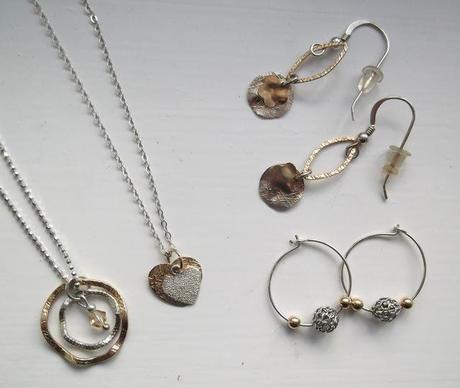 Q8) How do you store your jewelry? is it in a jewelry box or on display?
For me it's a bit of both. I have a large brown jewelry box from TK Maxx which holds most of my jewelry, however I also like to use my jewelry to decorate my dressing room.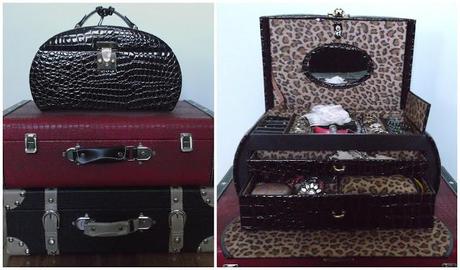 My bigger pieces and all my brooches are displayed on a dressmakers dummy. Recent purchases, or pieces I reach for every day are displayed on a vintage cake stand, or in a vintage music box.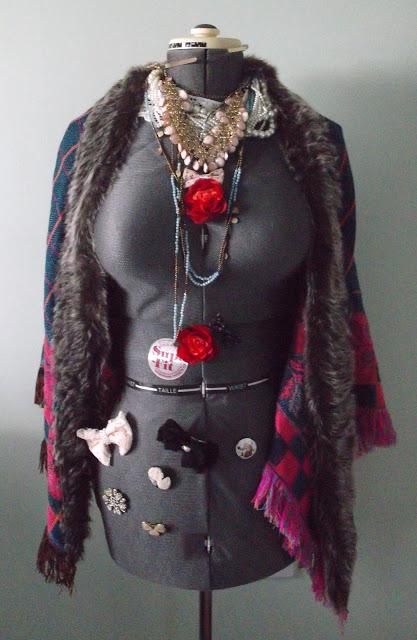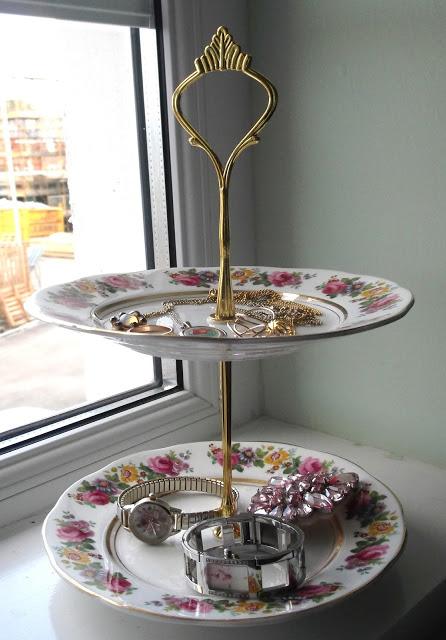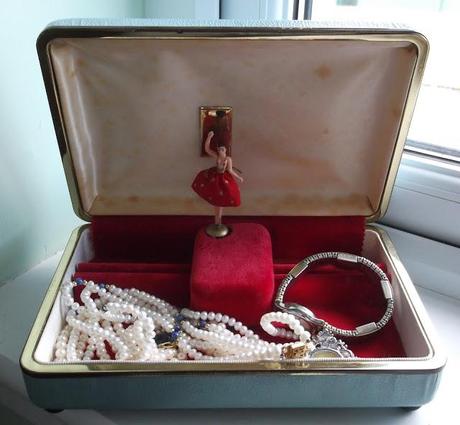 Q9) Do you own any heirloom jewelry?
When I graduated from university my Mum bought me a beautiful set of creamy pearls. I wear them at every special occasion. I love the intricate silver clasp. This isn't quite an heirloom piece yet, but it's something I see myself passing on to my daughter one day.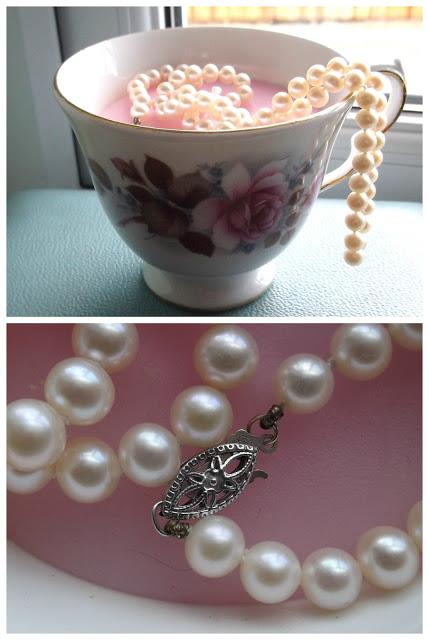 Q10) What are your favorite jewelry brands, and what piece are you looking to add to your collection next?
I buy most of my jewelry from vintage stores, fairs, Ebay or on holidays. Saying that, if money were no object I'd love a pair of shoulder duster earring from Greek designer Ileana Makri. Her pieces remind me of the bold, intricate jewelry worn in Bollywood films.
I also love Anton Heunis's stunning statement necklaces and earrings. They are a very modern take on vintage inspired jewelry.
I've loved Isabel Marant clothing for years but have only recently discovered her jewelry. it has the same boho, hippy feel as her clothing, which I like.
Sadly my budget doesn't allow for extravagant jewelry purchases from these designers. I do have my eye on something decidedly more affordable though! It's Prairie Charms Kaiya Multi Wrap. This item is a length of interwoven, mint toned fabric with a gold coloured fastening. I love the colours, and that this item is multifunctional. It can be worn as a necklace, headband, wrap around bracelet or clutch wristlet.
Prairie Charms are offering 35% off for readers. Just enter JEWELS35 at the checkout.
If you are a blogger and are interested in taking part in the blog series, you can contact Prairie Charms on twitter @Prairie_Charms or email [email protected]