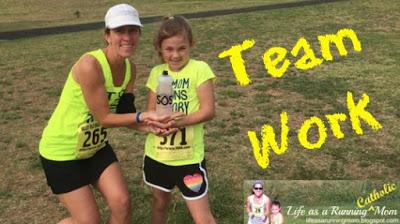 Let's be honest. I didn't always like to run. In fact, in the days of high school soccer running was my least favorite thing to do. Okay, maybe my second least favorite. Those boxes we had to jump up on were probably my least favorite. That last box was HIGH!
But eventually, thank you God, I had the blessing of meeting an amazing running coach in my college years and she taught me how to run or at least, how to find the fun in running. The focus came off of the time and went on to just improving myself. Yes, she timed us so we could see our progress but the focus was on running our best, having fun, and being safe. And through her and running, I went down from a size 12 to a size 8. Yes, I was one of those gals that ballooned after high school. Being on your own doesn't always mean doing your best in terms of nutrition.
Fast forward to today and I am in the best shape of my life but I am going to be honest, I still have some nutritional hang up's and fail to truly give all my fitness workouts 110% effort. I kinda suck at cross training and know I need to do it to take care of problem areas. I can make the best running plan for myself and you (if you want me to -- just email me at [email protected]) but when it comes to cross training, I flop. I need help. We all do at times. And for cross training I feel I need someone standing behind me saying go, go, go! Don't give up. Just go!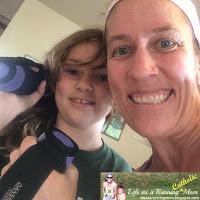 Yesterday I kinda had that as I tried out a cool cardio workout. I even got darling daughter to join in with me and to be honest again, I didn't think she would stick with me for 30 minutes but she did! Yes, she modified some of the workout moves and that is perfectly okay. We all need to do that at times but she stuck to it and when the instructor said don't give up I saw her efforts increase and had to increase my own. It was awesome working out together as a team and we gave each other high five's after each segment of the workout. And I loved that it had some rest breaks built into it. It was a really good workout and a lot of fun too. And I could feel it targeting some of my weak points much better than what I have been trying to do on my own.
Hard work pays off and so does investing in yourself. Stay tuned as I will be sharing my cross training journey with you and in another post I will target my nutrition flops and successes.
Have a beautiful day!

Daily Gratitude: I am thankful to have darling daughter as part of my workout team.

Daily Bible Verse: Two are better than one, because they have a good reward for their toil. For if they fall, one will lift up his fellow. But woe to him who is alone when he falls and has not another to lift him up! Again, if two lie together, they keep warm, but how can one keep warm alone? And though a man might prevail against one who is alone, two will withstand him—a threefold cord is not quickly broken. ~ Ecclesiastes 4:9-12