Since I drink 3-4 cups of tea a day I wanted to share a few of the teas that have been in my mug lately. I keep at least 4-5 kinds at home and at least that in my desk at work, having a little variety makes me happy in the morning.
What's in my favorite mug:
Tetley Black and Green. I love the healthy benefits of green but the flavor is not my favorite ever. The mix of black and green is delicious!!
Numi Organics Savory Tea. I was scared of this tea and then finally made a big mug was surprised at how good it was. Savory, hints of vegetables flavors and perfect for that afternoon warm me up.
Trader Joe's harvest Blend Herbal Tea. This is fall in a glass and when I was checking out the associate told me to try it with red wine. That got my head turning? Red wine? But if you mix a mug of the tea with a glass of red wine it tastes like mulled wine. Seriously. Try it!
Shape Tea Active. An organic tea that is designed to give you a boost of energy pre-workout. I like it as a morning tea and since it does have natural energy boosters like cinnamon, goji berries and nettle leaf. This is a loose leaf tea and has so much flavor!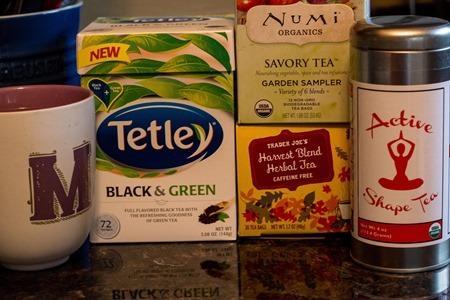 I have a Le Creuset kettle that I use to boil water to pour over the tea when I have time. But I will admit to microwaving my mug when I just want a cup in a hurry.
What prompted this post was a funny survey from Tetley, showing just how fantastic tea drinkers are:
- In the last three weeks, more tea drinkers than non-tea drinkers have tried:
o a new food (42% vs. 27%),
o a new drink (37% vs. 20%)
o a new restaurant (31% vs. 18%),
o a new style of clothing (24% vs. 13%)
o a new hobby (21% vs. 8%)
- More tea drinkers than non-tea drinkers say that:
o trying new things makes them happy (40% vs. 27%)
o it's important that they're adventurous (27% vs. 17%)
o they'd be interested in a new hobby or activity (51% vs. 35%)
- Tea drinkers are also more likely than non-tea drinkers to:
o Have traveled to a new location in the past 11 months (38% vs. 32%)
o Fit exercise into their lives (83% vs. 72%)
o Be interested in taking a class to learn a new skill (47% vs. 30%)
Some are a stretch but I'll take pride in knowing that drinking tea may make me more likely to try new things and travel. Yes please!
Disclosure: Tetley sent me the black and green tea and Shape sent me the Active tea. All opinions are my own.