Although I've recently started experimenting with SK-II products, I still retain my never-dying love for Sulwhasoo. Here's one of their newer products which I fell in love with at first sight (on their website). When I reached the counter in Lotte and tested it out slightly , I was totally sold. Yes yes, sucker much, I know.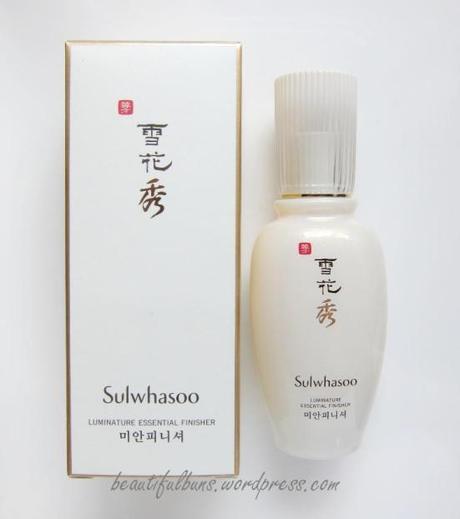 Sulwhasoo Luminature Essential Finisher – KRW90,000
Can you still blame me for wanting to buy this (even though the first time I saw it, I didn't know what the hell it was used for. heh). It's really so pretty!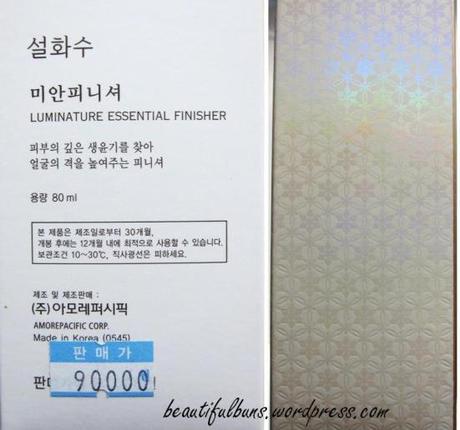 The side of the box is pretty toooooo. I see rainbowwww.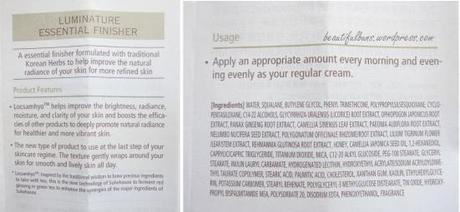 Instructions on usage differ from what the counter staff told me – basically, she (and now I) use it as a primer / base.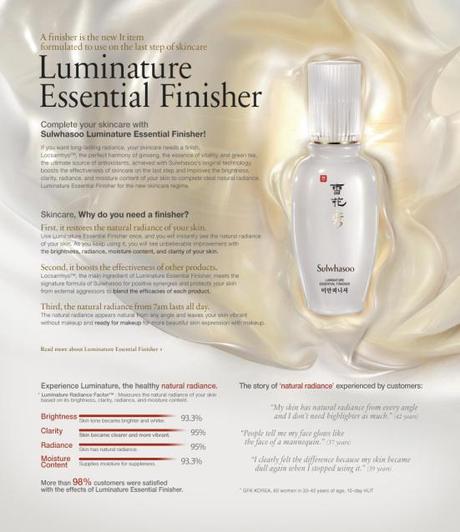 Read more about the
product from their official website here.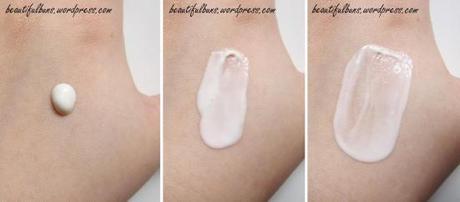 A relatively creamy pearl-sheened drop…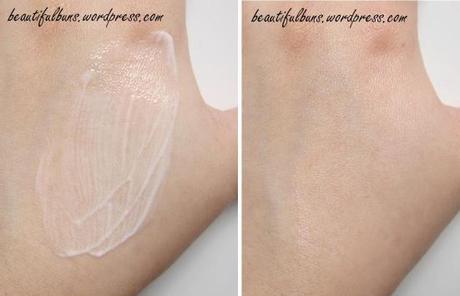 …spread it out and watch it get absorbed quickly into the skin…

… leaving a nice subtle glow.
I say…
First and foremost, I have to stress that there's not much visible effects -i.e. you won't suddenly morph into Suzy after applying this. It's actually more of a consumer experience – continue reading to find out what sort of Sulwhasoo-crazed mumbo jumbo I'm spewing.
The bottle is ridiculously pretty – a pearl sheen with smooth finish and a textured cap. The bottle is also pretty heavy (which I suppose is because of the density of the cream inside), so be careful not to drop it.
The pump delivery system dispenses just enough for the entire face with just one pump., so yay for no product wastage, or having to estimate what's a 75% pump.
I apply it as the last step of my skincare in the morning (ie IOPE Bio Essence Intensive Conditioning, Belif Numero 10 and then this – I don't like to leave my house with too many things on my face)
Once applied, it's spread easily even though it's more creamy than watery.
It smells nice – a good balance of herbal and fragrance.
It's also absorbed pretty fast. It kinda feels like a daytime leave-on sleeping mask -  In fact, it kinda feels like there's a loving film of skincare wrapped around my skin. It's not sticky or greasy though' in fact, my skin actually feels firmer.
My skin also looked slightly more radiant, but it's just a 10% increase in radiance (kinda like how your face looks after applying a sheet mask). It doesn't up your skintone significantly like the Hera Age Away Primer Base either.
It leaves a nice subtle dewy glow, but it's not the obvious types  for example the Burberry Fresh Glow).
Now comes the awesome part: It actually helps my makeup stay on longer the entire day! -mindblown-
It also extended the lifespan of my makeup – instead of it oxidising / melting off after 4-5 hours, my makeup now lasts till at least 7-8 hours, and this includes the time I'm trudging out under the hot sun to get my lunch.
Somehow, it felt as though the Luminature Essential Finisher was acting like a makeup magnet, keeping it close to my skin at all times.
I did try going off this product (zomg now I sound like an addict), but my skin suffered cold turkey and went into withdrawal – there goes my makeup like -that-.
Because it's a skincare product, my skin also feels less dry and tight during the hours that I'm sitting in the super-cold, super-dry airconditioned office.
Now you see what I mean by an experience? There's nothing else I can say except – tis time to go out and get yourself a jolly damn good experience nao nao nao!