So this one did not turn out as well as I had hoped but I like the colors. Even my mom liked this idea over the first one. Plus it is a little more creepy than my first look.
I did find some white grease face paint at Party City, which was a pain in the butt to work with (but washes off really easily). But it got the job done. Plus I also had NYX's Jumbo Eye Pencil in Milk which helped shade in the area around my eyes.  I found that it works better to apply all of the eye makeup first and add the face paint around it. This way the eye liner and shadow does not slide around so much. But be careful where you place your hands on the process; it can smudge the shadow a little.
I actually did this look twice since I HATED the first attempt and it just didn't look right.
Products used:
Grease Face Paint from Party City
Lancome Aquatique primer
NYX Jumbo Eye Pencil in Milk
NYX Jumbo Pencil in Rust
NYX Eye Shadow single in Rust
e.l.f Dramatic Lash Kit
Maybelline The Falsies Flared Mascara
Lancome Artliner in Noir
Urban Decay 24/7 Glide on Pencil in Zero
e.l.f. liquid eyeliner in Plum (I would say to find another brand..it did not give the best results)
MUFE Microfinish HD Powder
and a flower
 I started with a clean, primed face. For my first attempt, I applied primer all around the eye lids and under the eye (Lancome's Aquatique). Then I applied the face paint all over my face but not on my lips or directly around my eyes. I used the NYX pencil in Rust to trace the circles around my eyes and filled them in. Then I used the Rust shadow on top. I used Zero to trace the small semi-circles around my eyes and filled them in. I drew the stitches around my mouth and my lips with Lancome's Artliner.
Something about the way this attempt looked did not sit well with me, The eyes were uneven and I did not like the black around the red. Plus the makeup around my eyes started to crease badly. So I washed it off and tried again. My 2nd attempt was much better. I drew the eyes first, and applied the face paint around it, using Milk for difficult areas. The eyes are still too big considering I have a small face. But I like the overall concept colors. Traditional Sugar Skulls have a design on the forehead and chin, but since I am doing this for a volunteer race and I have to be up early, I want to keep it as simple as possible. Plus I am not sure if my small face could support the extra design.
My plan is to just wear a black dress and stick a red flower in flower in my hair.
And I did find the face paint to be a bit irritating. I found a dry, itchy patch on my forehead and lips this morning. But they went away in a few hours after applying my topical cream.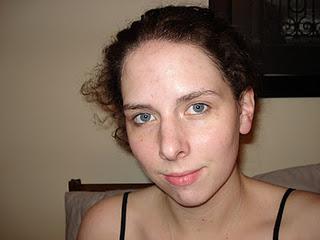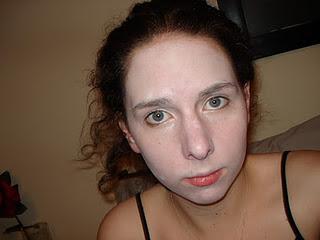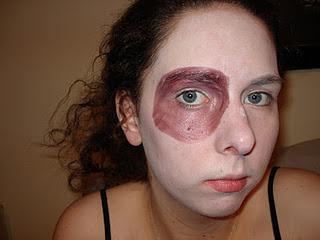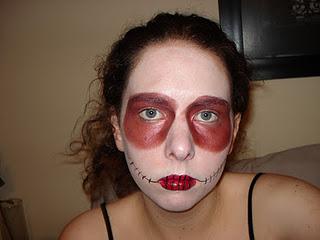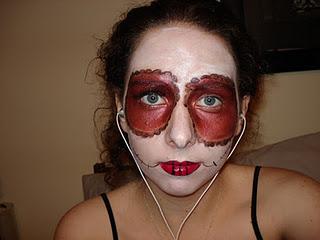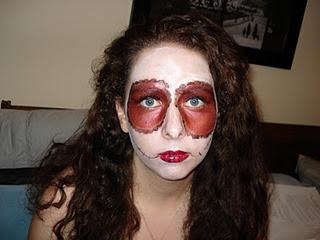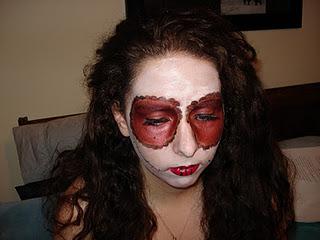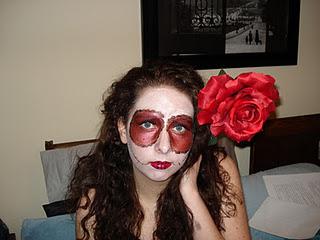 Of course I am not going to use that big of a flower =)