When I started my blog, never in a million years did I ever expect to become a plus size blogger, because fashion has never been something that I've taken to naturally. So when I was recently asked if I would like to review a product from a Plus Size online store, that was completely new to me, I had to think twice about whether or not to accept.
I have to confess that when it comes to being approached by unknown (to me) stores, I tend to run a mile. But, this time I felt intrigued to try them out, purely because they are a plus size retailer, and over the past few months, I've noticed that a lot of you guys seem to really enjoy my plus size related posts (Well, I seem to get a lot of good feedback from them anyway).
The Store
:
OneStopPlus
What I Picked
: Trust me when I tell you that I spent a very long time choosing something from their incredible range. I went through boots, to jeans, to tops, back to jeans, back to tops, to coats, and back to jeans, and finally I settled on the tops.
The problem was that I wanted something that
:
a. Would suit me, and that I would actually choose to wear on a regular basis
b. Something that I thought you guys might like in a "style me" kind of way, in the sense, that I wanted to be able to use it in a recommendation feature, which is of course, exactly what this post is all about.
So, what did I choose?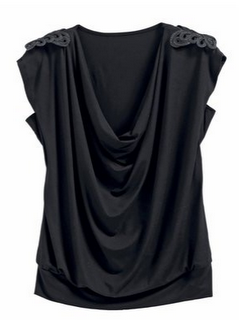 Apologies for using a stock image. My Camera currently has no batteries!!
Product:
Cowl Neck T-Shirt
Sizes:
12-34
Price:
£27
Sizing
: Being a Size 22 "on top", I was torn between opting for the 20/22 or the 24/26, because when tops come in ranges like this is hard to judge if it will be a large 20, or a small 22 if you understand what  I'm saying. Nevertheless, out of fear of getting a top that was just far too big, I did indeed opt for the 20/22. This was a good choice, because it is a beautiful fit. It's not tight, and fits perfectly.
Opinion
: Overall I love this top, although, I do think that the shoulder "things" are a little bit tacky. As someone who doesn't have particularly large boobs (I might have mentioned that before *cough*), I did find, however, that it was a little too big in that area, and I certainly would not be able to wear anything other than a black bra underneath it, as it tends to hang quite low on my chest.
But, if you're fortunate to have bigger boobs, then this probably isn't going to be a huge problem.
How They Would Wear It
: I spent quite some time trying to decide exactly how I would wear this. The website recommends this look: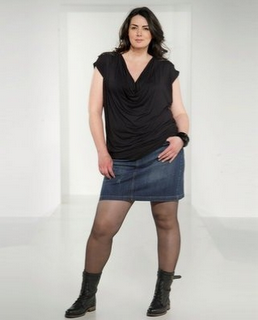 I do think that this is a really cute look, but if you have a larger tummy, I don't know about anyone else, but mini denim skirts don't really look that great on me. So, personally, this is a look that I would have to avoid.
How I Would Wear It
: Again, I'm going to have to apologize for using stock images for this bit, but following from my birthday weekend, I'm temporarily out of batteries.
Personally, I think that this top would look fab with a dark coloured pair of jeans or trousers, not only because it's slimming, but because it would look fab together. Here are a few suggestions: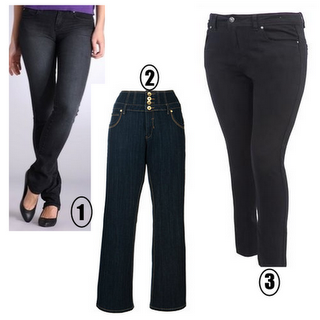 1. Straight-Cut JeansFrom
: OneStopPlus
Price
: £19
Sizes
: 12-20
2. Inspire High Waist BootcutFrom
: Inspire at New Look
Price
: £27.99
Sizes
: 18-26
3. Black Skinny JeanFrom
: Yours Clothing
Price
: £19
Sizes
: 14-28
Shoes
: I definitely think that because this is such a simple look, and because it's dark colours, that it would look fabulous paired up with a pair of shoes that are bright and bold, either heels or flats, whichever you feel more comfortable in. 
What do you think? How would you style this top?