Sometimes I bite off more than I can chew. There is a house down the road that was recently purchased. Darling daughter and I have been loving watching the transformation. A fence going up. The house being painted. Trim work done. Chairs on the patio. The land being cleared. It makes the first change, our teddy bear tree trunk being pulled out, more bearable. We loved that bear.
I am one of those people who truly does love being active and doing things with my hands. And with watching so much work being done by others and the awesome difference it makes, it is hard to not be inspired. So those things I have been dreaming about doing around our yard...yep, I have been tackling them off the list and I am loving the transformation going on around our house! Thing is, those two or more hours of shoveling, digging, leveling, moving rocks, etc. is a major workout! And the time devoted to that is time not devoted to running. And I will get back to that in a minute.
What did I run?
My plan was 38-47 miles. I ran 36.23 miles. This is the first week in five training weeks that I did not meet my mileage goal. And a lot of my running was at home on the incline treadmill meaning a slower pace but I did bust out my 3.5 mile tempo run on Wednesday!
Here is what my running looks like: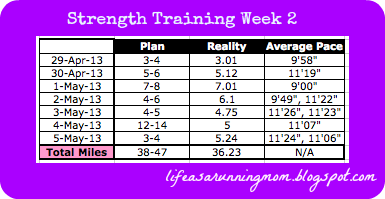 How am I feeling?
A little disappointed in myself but with no regrets. And let me tell you, it is really hard to balance those two emotions since they are so contradictory. This weekend was the annual feast/festival at my darling daughter's school and due to a mandatory fundraiser, we had lots of scrip! Therefore, it is the one festival that darling daughter gets to play her little heart out and it started Friday evening with a performance, we returned Saturday, and we returned Sunday. Yes, we played every single day of the feast. That adds up to over 8 hours of playing and having a grand ol' time!
And remember all that gardening, now I am up to over 10 hours of time doing things that bites into running time. Add in the planting plants, watering plants, and composting and I am busy, busy, busy. And please do not forget the little birdhouse darling daughter and I put together and started painting. Yep, we have been having fun!
So I am disappointed I didn't meet my goal and part of me feels like I failed. The logical part of me says it is okay, I worked my body in many different ways, and I wouldn't trade in the fun I had with darling daughter for more running time this weekend. It was a once in a year event at her school, something to be cherished. This is the no regrets part.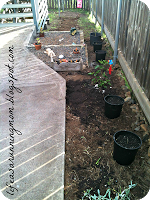 What did I learn?
Doing what is right is indeed right. It doesn't mean you will feel peachy keen each second but deep down, you are at peace with yourself. And perhaps I shouldn't have done so much running at home. Perhaps some more gym runs at a slightly faster pace may lift my spirits more. I will remember that next time!
Oh yeah, and moving rocks is HARD work!
How did I fuel?
I am sticking to the same routine but with no long runs this week, there was no gels on mid-run nutrition. But on a side note, I treated myself to a mocha freeze at the feast! It was delicious and indulgent! For the rest of my snacking, I ate pretty healthy and completely resisted eating any malasadas! And by bringing our own water, darling daughter and I stayed hydrated without being tempted by sugary drinks, although on Saturday we did have to refill our bottle by buying some water!


Daily Gratitude: I am thankful for the most generous boy and mom who gave darling daughter the two fish the boy won. Darling daughter was crushed and in tears when we failed to win her one. She gave the boy her last scrip in exchange. Not necessarily an equal exchange, the game was 5 scrip, but it was a lesson in love, kindness, and paying back kind acts with more kindness. It still brings happy tears to my eyes.
Daily Affirmation: I am setting a good example for darling daughter to follow.