Good Morning!
CAR TROUBLE
Today I dropped my car off at the shop.  I might have had an emotional break down on my way home from the mall yesterday when my car started making weird noises (plus other issues) and I wasn't able to get in touch with Nick so he could tell me whether or not I should be worried.  So I worried.  He said I should go ahead and take it in to the shop since he won't be able to look at it until this weekend.  The love I have for my car is deep.  I really hope it can be fixed, but if it ends up costing too much, it'll be time to replace it.  I'll keep y'all posted because I know you're really concerned!
DINNER
Despite my break-down in the middle of a parking lot, the rest of the night turned out pretty great!  I'm loving this Whole Foods Health Starts Here Diet (Read about my Orientation).  It's taking some time to learn how to manage it, but I think it's getting better.  I had mushrooms, onions, and a bell pepper that I needed to saute.  We're not allowed oil in our diet, so I had to steam fry them without the oil.  It worked like a charm too!  I watched this video from Whole Foods to learn how to do that.
I used part of that for veggie tacos.  I also made some guacamole to go with it.  I'm not allowed chips which is really hard because guacamole and salsa are really great on this diet, but I have nothing to dip with!  I'm still working on that!  The tacos turned out great.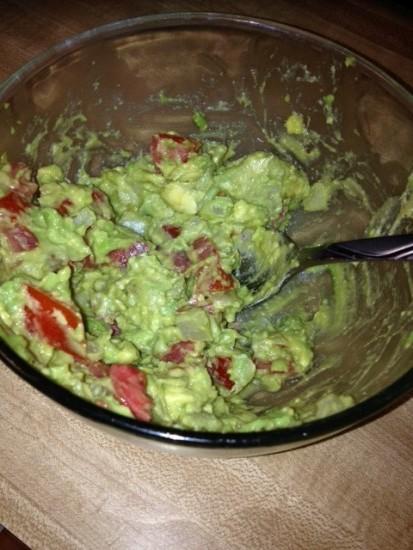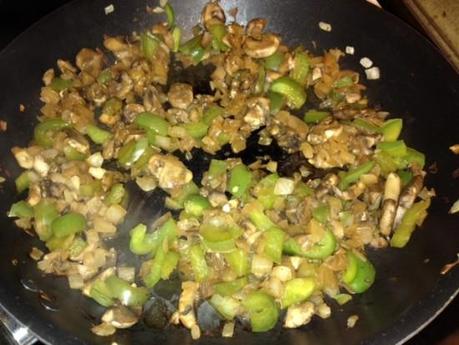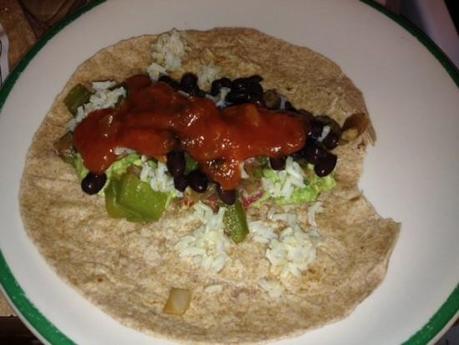 That's guacamole, brown rice, low-sodium black beans, steam fried green bell peppers, mushrooms, & onions, and salsa.
I then put a portion of the steam fried veggies in a container for mexican later in the week and then steam fried the rest of the veggies with a little soy sauce to go in the brown rice I pre-cooked on Sunday.  I'm really looking forward to that for lunch today!  I already taste tested it last night before putting it away and yes, it's delicious!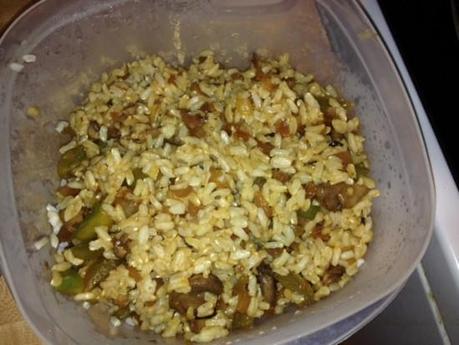 I have a major sweet tooth.  I really didn't consider that when I signed up for the challenge, but quickly realized that I have almost zero options for something sweet.  I went to the Whole Foods website to find a dessert I could have on the Health Starts Here diet.  I found a Banana-Cocoa Snack Cake.  I followed the recipe exactly except I didn't add the shredded coconut on top.  The texture turned out like cake in my opinion, which was great!  The taste is a little different, but you eventually get over it and enjoy the fake brownie that's 100 times healthier for you!  My parents had strawberry shortcake for dessert, so I decided I would put strawberries on it and see how it tasted – well, it's wonderful!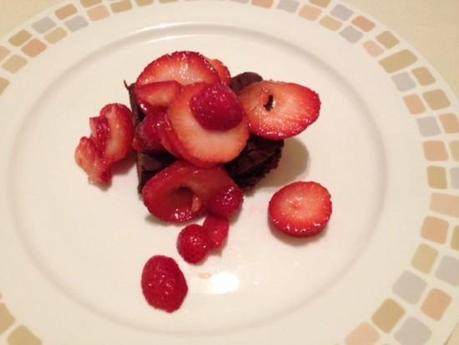 I'm enjoying the creativity that's flowing with this challenge!  Constantly thinking one-step ahead to be prepared for the next meal.  I'm spending a lot more time in the kitchen, which is one of their goals for the challenge.  I'm excited about seeing the results after a week.  I believe I'm noticing a slight difference in my energy level, which is good.  I feel like my face is clearing up some, but it could be that time during the month when that usually happens (basically a 3 day window of clear skin before "that time of the month").  Hopefully that's not the case and I'll continue to see improvement there.  I'll do a full re-cap of my first week on Monday!
WORKOUT
One thing I've been slacking on are my workouts.  I ran 2 miles on Monday, I attended a portion of my HIIT class – it's only 30 minutes- on Tuesday (I was running late because of work) and then I haven't done anything today!  I need to get back to running and incorporating a lot of those circuit workouts I did during my 21 Day Workout Challenge.  Once I get news of my car, hopefully all is well and I can go pick it up after work then make it to that dreaded 5:45 class that I promised I'd go back to.
BREAKFAST
At our week 1 Health Starts Here class, our Healthy Eating Specialist, Mary Lindsey, shared what she eats for breakfast.  It sounded amazing, so I decided right then and there to buy what I needed and give it a try.  It's also super simple!  You use Ezekial bread (I chose the cinnamon raisin), peanut butter (I'm using the Whole Food 365 brand because it has no added oil or sugar), sliced banana, honey, and a sprinkle of cinnamon.  It was so good!  I paired it with a cup of Dunkin Donuts coffee with Almond Milk.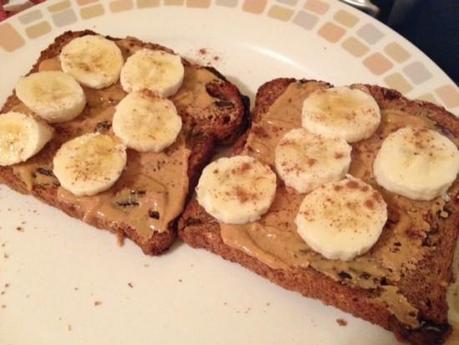 I've also been re-using my Whole Foods grocery bag for lunch.  It's a lot nicer than the plastic bags I usually use and it stands up better.  I'm not worried about holes for my food or utinsels to fall through.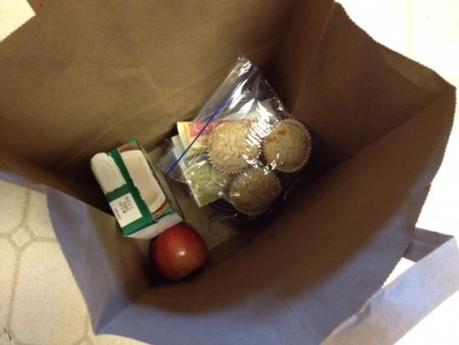 That's the coconut milk I brought for work so I can have coffee.  I'm also loving the Whole Wheat Corn Muffins you see there.  You use honey and it sweetens them up – Delicious!
Have you tried Ezekial bread?
Will you try Steam Frying?
I had never heard of Ezekial bread, but really enjoy it now!  Even after the challenge, I will continue to Steam Fry when possible.  I don't see any reason not too when my vegetables turned out delicious and I didn't need added oil and fat to do that.