Steak & Ale's Hawaiian Chicken
One of the most favorite ingredient that everyone enjoys eating in my opinion is definitely chicken. I am sorry if you are either a vegetarian or vegan reading this article. This is definitely not for you. Well to make this hawaiin chicken recipe all you need is simple and basic culinary knowledge like how to hold a knife and you are done. Honestly to make this hawaiian chicken you`ll be surprised at how easy it is to make. Which makes this hawaiin chicken recipe ideal to have as your healthy lunch ideas or any other meal. Enjoy it and let us know in comments on what you think of this lovely hawaiin chicken recipe as your healthy lunch ideas.
Ingredients:
4-6 Chicken Breasts
Marinade:
1/4 cup soy sauce
1/2 cup + 2 T. dry sherry
1 1/2 cup unsweetened pineapple juice
1/4 c. red wine vinegar
1/4 cup + 2 T. sugar
1/2 tsp. garlic powder
Directions:
Combine all ingredients and marinate chicken overnight.
Remove and grill, saute or bake.
Baste with marinade ONLY during the first several minutes of cooking.
Top each breast with a slice of munster or provolone cheese and broil just until cheese starts to melt.
Enjoy!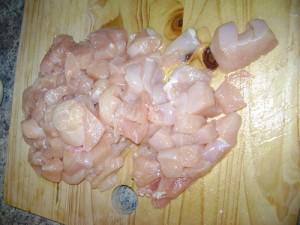 Photo by: polaritize