Spinach Stuffed Salmon Fillets
I don't know for some reason why can mums make great dishes out of ordinary ingredients. I sometimes think they are gifted, but I guess it is their life time experience or it could be me just mentally thinking if it is made by mom it has to be great and probably because of that I tend to love what ever my mom makes for me. Any ways this spinach stuffed salmon fillets is a recipe you`ll never forget once you had it. It is the sort of recipe where it leaves a distinct image / taste ( what ever you want to call it) that no matter how you want to forget it, it will not go away. It is sort of a different recipe than your usual ones but I really enjoyed it. Now you can give this spinach stuffed salmon fillets recipe a try and see for yourself how simple ingredients would play such a role. In my honest opinion it is best had at noon as your healthy lunch meal.
Ingredients
4 salmon fillets (about 5 ounces each)
Pinch salt
Pinch freshly ground black pepper
1 package (10 ounces) baby spinach, coarsely chopped
2 tablespoons prepared pesto
1 tablespoon chopped dry-packed sun-dried tomatoes
1 tablespoon pine nuts
Directions
Heat the oven to 400 F.
Make a slit two-thirds of the way through the center of each fillet making sure not to cut all the way through.
Season each fillet with the salt and pepper.
In a bowl, combine the spinach, pesto, tomatoes, and pine nuts.
Spoon 1/3 cup of the mixture into each slit.
Arrange the fillets on a broiler pan coated with cooking spray.
Roast for 8-10 minutes or until the spinach mixture is heated through.
Enjoy!
Serves 4
Liked this recipe than you`ll enjoy making these recipes as well.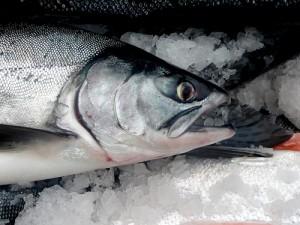 Photo by izik