With Scott working a ton lately I've had the house to myself (well, the dogs too) in the evening. When it's just me I want something quick, easy and healthy. This Spicy Thai Shrimp Salad is that.
Baby kale, shrimp, fresh vegetables and a spicy dressing. This is so delicious, good in any season and even better with a glass of white wine. We had somewhat warm temperatures for a few days and I wanted to stretch out that summery feeling. Fresh salads, glass of wine, and just enjoying the evening.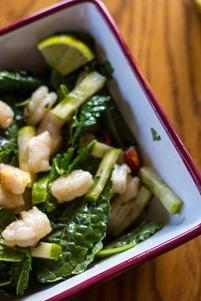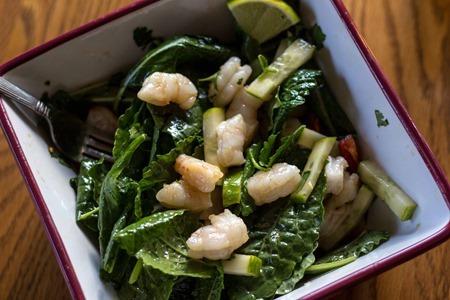 Spicy Thai Shrimp Salad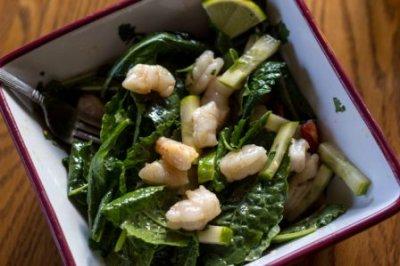 Prep Time: 15 Minutes
Keywords: salad shrimp
6054777
Ingredients (Serves 2)
2 tbsp lime juice
2 tbsp soy sauce
1 tbsp olive oil
2 teaspoons light brown sugar
1/2 teaspoon crushed red pepper
1 pound cooked and peeled small shrimp
1 cup thinly sliced red, yellow and/or orange bell pepper
1 cup seeded and thinly sliced cucumber
1/4 cup chopped cilantro
4 cups baby kale
Instructions
Whisk together lime juice, soy sauce, olive oil, brown sugar and red pepper flakes.
In a large bowl top kale with cucumber, peppers, cilantro and shrimp.
Top with dressing and serve immediately
Powered by
Recipage