Since we are going to be in Greece for Thanksgiving this year I wanted to make a few Thanksgiving inspired dishes that we could enjoy throughout the month. I still had all of those cooking magazines to go through and I couldn't pass up making this Spicy Quinoa with Sweet Potatoes that I found in Food Network Magazine.
This is a vegetarian dish (I subbed vegetable broth for chicken broth to make it that way) and amped up the spice even more. Scott loved the jalapeño in here and even ended up topping it with hot sauce.
You could make this as a Thanksgiving side, a salad to pass or even as a main dish for during the week. We ate this for lunches a few days and it was so good! Hearty, spicy and pretty good for you.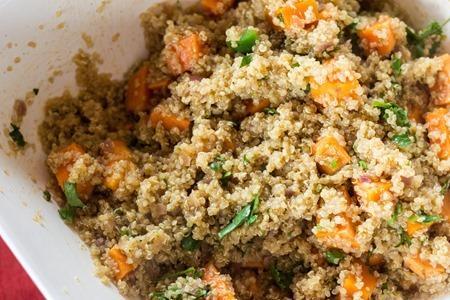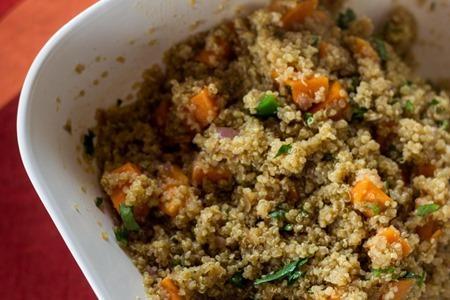 Spicy Quinoa with Sweet Potatoes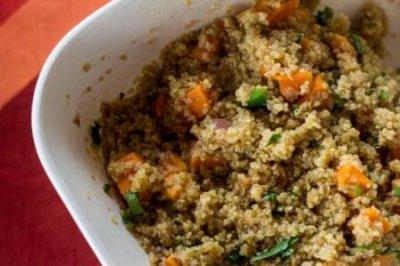 Prep Time: 15 Minutes
Cook Time: 30 minutes
Keywords: salad side entree
6056469
Ingredients (Serves 6-8)
1 3/4 cups quinoa
3 cups vegetable broth
3 tbsp olive oil
1 small red onion, finely diced
2 cloves garlic, finely diced
1 tbsp chipotle chili powder
1 tbsp cumin
1 tbsp coriander
Salt/Pepper
1 jalapeno, seeded and diced
2 sweet potatoes, peeled and cut into 1/2 inch pieces
1 small bunch cilantro, roughly chopped
Instructions
Mix 1 1/2 cups vegetable broth, 1 1/2 cups water and the quinoa. Bring to a boil and cook about 15 minutes. Fluff with a fork and set aside.
While the quinoa is cooking, heat the olive oil in a large skillet. Add the red onion and garlic and cook for about 5 minutes.
Add the chili powder, cumin, coriander, salt/pepper and stir to coat the onion and garlic mixture.
Pour the remaining vegetable broth into the skillet, top with the sweet potatoes and jalapeno. Cook for 20-25 minutes, or until the sweet potatoes are tender.
Add the vegetable mixture to the quinoa, top with cilantro and serve immediately.
Powered by
Recipage