The Spicy Italian Meat Sauce Recipe is great to make ahead and freeze. Spoon generous portions of it on your Roasted Spaghetti Squash and enjoy.
Spicy Italian Meat Sauce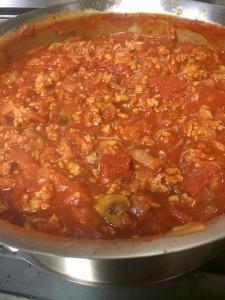 Step 1
In a large, heavy sauce pan, heat olive oil and add garlic, shallot, onion and mushrooms.
Step 2
Once the onion is translucent, add ground turkey and pork. Cook meat until no longer pink.
Step 3
Add all of the tomatoes, thyme, oregano, crushed red pepper flakes and bring to a boil.
Step 4
Once boiling, reduce flame to low and allow to simmer for at least an hour -- longer is better here.
Step 5
Season with salt and pepper to taste and serve over roasted spaghetti squash.