This classic Pork Chili Verde Recipe Mexican dish is extremely flavorful and harnesses the complex flavors of fire roasted veggies with melt-in-your-mouth tender pork. This dish can be prepared in a slow cooker if you have a big enough one available. The key is fire roasting the veggies, so don't skip that step! Enjoy our Pork Chili Verde Recipe!
Pork Chili Verde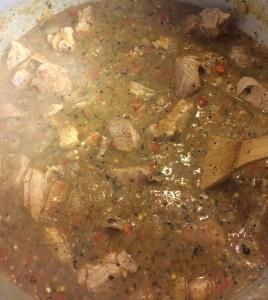 Step 1
Using a barbecue, oven or broiler, blacken/char the tomatillos, red bell peppers, Anaheim peppers and jalepenos.
Step 2
In a large pot, heat olive oil and sauté onions and garlic until translucent.
Step 3
Add pork shoulder to pot and brown meat.
Step 4
While the meat is browning, add your fire roasted vegetables and chicken broth to a blender or food processor (in batches is fine) and blend, leaving a little chunky.
Step 5
Once the meat is browned, add the blended vegetables from the previous step to pot.
Step 6
Add your spices and seasoning to pot.
Step 7
Bring the ingredients to a boil, then reduce heat to low and simmer for 2-3 hours or until pork is extremely tender.