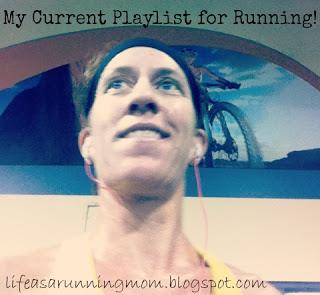 A dear friend asked me to share what's on my playlist over a week ago. Since I have been seriously slacking on getting the list to him, mainly because I keep forgetting to sit down and do it, I figured....why not blog about it as well? Perhaps it may be of interest to someone else but really, I would love to hear what tunes get you going during your runs. Feel free to comment and share your favorites!
Currently, my playlist is just a single collection of songs. Long story short - got a new computer, had to reload songs from CD's into iTunes, got a new phone, lost all old playlists, and I am starting from scratch in rebuilding my distance specific lists. That will come later and in all reality, I should work on it sooner than later. The last thing I want to be doing the night before a marathon is making a marathon-specific playlist.
So here it goes! The songs I run to!
Ain't No Sunshine - The Neville Brothers
All You Need is Love - The Beatles
Anatevka - Fiddler on the Roof
Angel Boy - Tim McGraw
Angel Eyes - Love and Theft
Angry All The Time - Tim McGraw
Another One Bites the Dust - Queen
Bad Day (Workout Remix) - SHAPE Cardio
Beat It - Michael Jackson
Beer for My Horses - Toby Keith & Willy Nelson
Black Dog - Led Zeppelin
Black Horse and the Cherry Tree - SHAPE Cardio mix
Born to Run - Bruce Springsteen
Bottle Dance - Fiddler on the Roof
Call Me - Blondie
City of New Orleans - Willie Nelson
Come Together - The Beatles
Country Girl (Shake it for Me) - Luke Bryan
The Cowboy in Me - Tim McGraw
The Devil Went Down to Georgia - Charlie Daniels Band
Dirt Road Anthem - Jason Aldean
Down on the Farm - Tim McGraw
Down to You - Bonnie Raitt
Dream On - Depeche Mode
Dream On (Live) - Aerosmith
Drink On It - Blake Shelton
Drivin' My Life Away - Eddie Rabbit
Eye of the Tiger - Survivor
Fire - The Pointer Sisters
Friends in Low Places - Garth Brooks
Give It Away - George Strait
Give Me One Reason - Tracy Chapman
Gonna Fly Now - Various Artists South Africa 2010
A Good Run of Bad Luck - Clint Black
Hard to Love - Lee Brice
Heart of Glass - Blondie
Here Comes the Sun - The Beatles
Honky Tonk Badonkdonk - Trace Adkins
Hung Up (Workout Remix) - SHAPE Cardio
I Don't Want this Night to End - Luke Bryan
I Gotta Feeling - The Black Eyed Peas
I Love a Rainy Night - Eddie Rabbit
I Love This Bar - Toby Keith
If I Was Jesus - Toby Keith
If I Were a Rich Man - Fiddler on the Roof
It Doesn't Get Any Countrier than This - Tim McGraw
It Happens - Sugarland
Kryptonite - 3 Doors Down
Let's Get It Started (Radio Version) - The Black Eyed Peas
Little Bit of Life - Craig Morgan
Lose Yourself - Eminem
Love Shack - SHAPE Cardio
Macarena - Los del Rio
Makes Me Wonder - Maroon 5
Mammas Don't Let Your Babies Grow Up to be Cowboys - Willie Nelson
Move Along - The All-American Rejects
My Sharona (Re-Recorded) - The Knack
Ob-La-Di, Ob-La-Da - The Beatles
On the Floor (feat. Pitbull) - Jennifer Lopez
On the Road Again - Willie Nelson
One More Night - Maroon 5
One Way or Another - Blondie
Ours - Taylor Swift
Pickup Man - Joe Diffie
Pontoon - Little Big Town
Push It - Salt-n-Pepa
Rag Doll - Aerosmith
Real Good Man - Tim McGraw
The Real Slim Shady - Eminem
Red Solo Cup - Toby Keith
Save a Horse (Ride a Cowboy) - Big & Rich
SexyBack - Justin Timberlake
Sideways - Dierks Bentley
Sparks Fly - Taylor Swift
Start Me Up - The Rolling Stones
Take a Back Road - Rodney Atkins
Tall Cool One - Robert Plant
This Love - Maroon 5
Thunder Rolls - Garth Brooks
Time for Me to Ride - Toby Keith
Twist and Shout - The Beatles
Up on the Ridge - Dierks Bentley
Waka Waka (This Time for Africa) - Shakira
Wake up Call - Maroon 5
Walk this Way - Aerosmith
The Way You Make Me Feel - Michael Jackson
We Are Young - 3OH!3
We Will Rock You - Queen
Where I Come From - Montgomery Gentry
White, Clean and Neat - Robert Plant
Whole New Way - Scissor Sisters
Why Don't We Just Dance - Josh Turner
The Wind - Zac Brown Band
Without Me - Eminem
A Woman Like You - Lee Brice
5-1-5-0 - Dierks Bentley
Daily Gratitude: I am thankful I am done typing this list. ;)
Daily Affirmation: I am balanced in life.