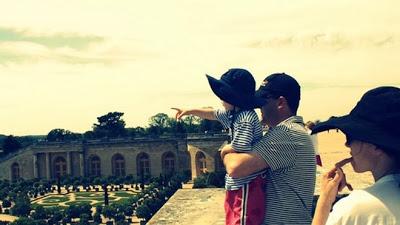 Travelling across is always a fun thing to do, but many of a times we feel hesitation to travel with kids, grandkids, or nieces and nephews but if we look inside it is really a wonderful experience because you would be amaze to hear the discounts, offers and convenience that you are going to get in some of the kid friendly hotels.
In this regard our author--a mother of five!--spills her secrets.
She said before they had kids they firmly stuck with a motto of traveling along with the kids.
She shares her tip of traveling with a small and big family as they had experienced and enjoyed the same so here are some of the friendly tips to travel with your kids.
Safety First
Make sure you have an idea regarding the hotels because they all are business oriented and not a baby resort so, if you traveling along with your kids consider to pack baby proofing comforts as this little things won't occupy a space of your bag and at a same time you will feel peace of mind as your little one would crawl around to explore a new things. For bigger ones make them sure those homes rules are strictly to be followed here and as a reminder to you don't leave the kids home alone. Stick with an ABCs when it comes to kids club: Ask about Allergies, Background checks and "Checkpoint Charlie.
Ask and You Shall Receive
From luxurious inn like Montage to the more economical residence of Marriott, there many things complimentary as you long as you will for it. Many hotels in regards to please their customer they offer stuffed animals, colouring books, crayons, rubber ducks for tub time, game rooms or libraries stocked with board games, video games, puzzles and books you can borrow during your stay. Forgot to pack pool toys? Ask for those too. If you are traveling and boarding in to Westin and rest assure they offer Diaper Genies, bottle warmers, and booster seats.
Be Specific When Making Your Reservation
Before you make reservation make sure you have already asked for crib if you need it, mini fridge check it before you arrive and confirm it, remember to check a maximum occupancy of the room that you have booked. As most of the hotels have a limit of space so if you traveling with your kids request for a room with a kid friendly layout.
All You Can Eat
Well it is kind of shame not to get out of the hotel to enjoy local fare, although you can eat much as they offer you a lot but at least you can advantage of any freebies that are offered. There are hotels like Country Inn & Suites, Embassy Suites, Holiday Inn Express, and Spring Hill Suites where breakfast is included. The Doubletree is famous for warm chocolate-chip and you can have it to if you nicely confirm it with a spokesperson. Many hotels allow kids to eat free and even goes to include weeknight dinners at your daily rate.
Plan Your Meals
Sometimes freebies or taco nights are not just your cup of tea and you end up by loosing amount on your breakfast expense the best thing what you can do is choose a hotel with a suite kitchen, like Residence Inn or Homewood Suites. It is always helpful to pack some basics like cereal, peanut butter, jelly, crackers, and Mac & cheese.
Pack Wisely, But Don't Pack It All
It's always a better idea to find out what's your laundry option before you travel. But make sure to ask whether you have to pay a premium for it and if not then ask for a laundry room or a laundry guy so that you can rest peacefully even if your little ones wet their pants or poo it all over. As one of our travel blogger has shared his tips while bringing a Ziploc bag of laundry detergent, Jamie Pearson, says label it with a Sharpie and put it in your checked baggage. On the whole, TSA agents tend to take a dim view of baggies full of white powder."
Be Aware Of Hidden Costs
Make sure to ask a hidden cost or about extra charges like that of parking cost, exceeding double occupancy, rollaway beds, cribs and many other things. Also make sure many resorts are not at all inclusive as they look for an opportunity to charge you high from amenities like water sports, kid camps, and cute umbrella drinks. Keep your kids away from a snack bar and take them out of a reach of mini fridge.
Join Aaa
As the annual membership fees for the Automobile Association of America range from $58 for a basic membership to $129 for the premiere package, and in hotels like Best Western, Clarion, Doubletree Hotels, Embassy Suites, Hampton, Hilton, Hyatt, Marriott, Quality or Sleep Inn, and more you can get a great deal.
Don't skip "date night"!
We understand it is hard to share a quality time alone when you have kids with you in that case ask for a room with a terrace or patio. Or better stay inside dim the lights or even go for a bubble bath. 
Ref:
http://www.foxnews.com/travel/2013/11/29/travel-with-kids-top-10-hotel-tips/