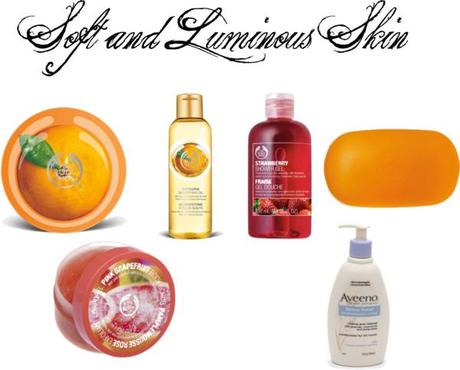 I have never been one to spend a lot of time moisturizing my skin.  I would only use the Aveeno Stress Relief or Curel if my skin was giving me issues.  Well, that all began to change was I discovered The Body Shop.  Now I use all of the products in this Polyvore set and my skin feels so much softer.
Satsuma Shower Gel: My all time favorite gel. It lathers up very well and smells divine; like a fresh clementine.  The shower gel alone made my skin feel softer.  I also have the Strawberry gel.  It also makes your entire bathroom smell divine.
Body Scrub:  I have used a few body scrubs in the past that were too rough on my skin.  Or had a bad scent. The Strawberry Body Polish is perfect.  It is gentle enough for daily use but is very effective.  The strawberry scrub looks and smells like they just smashed a bunch of strawberries.  It is amazing :)  It has a gel base with walnut seeds and what looks like berry seeds.  It also has honey and almond oil to moisturize the skin.  Strawberries also have salicylic acid, which is good for treating/preventing pimples and honey helps with that, too. If you do not have sensitive skin, you may not find it effective.  But I believe the body scrubs in the tubs are more "rough" so to speak.
Body Soap: I have never been a fan of bar soap because of the slippage factor and they usually dry my skin out. But this one does not.  It leaves my skin feeling soft and clean.  Of course the slippage factor still exists, but that is just a minor annoyance.  But there is one thing I did not like about this bar; it did not lather easily.
Body Butter: I love the body butter!  The texture is not too thick and it absorbs quickly, leaving my skin velvety smooth.
Beautifying Body Oil: AMAZING!! This is even better than their body butter.  If you were to get just one of the products from this post, I would recommend this one.  Even though it is oil, it absorbs quickly and does not leave your skin greasy (unless you over apply, which is easy to do.) In can also be used on face and hair.  I like mixing it with my hair cream for extra softness.
Aveeno Stress Relief Lotion or Curel Itch Defense: Either one is my lotion of choice on days my skin feels a little itchy.  What makes these special is that they are also moisturizing.  It can be difficult to find an anti-itch lotion that can make your soft.  I usually find them drying, but these two are an exception.  Plus they don't have a weird smell like anti itch lotions have.  Sarna comes to mind for that category.  Or am I the only one who things Sarna smells horrible?
I will have full reviews of each product in the upcoming days and my own photos so you can see the textures.  I just like using Polyvore sometimes because it looks a little neater :)  The Body Shop always has a sale of some sort going on, so you may be able to get the items cheaper.



Aveeno face moisturizer
$1.70 - drugstore.com



The Body Shop body moisturizer
$19 - thebodyshop-usa.com



The Body Shop body cleanser
$19 - thebodyshop-usa.com



The Body Shop body cleanser
$8 - thebodyshop-usa.com



The Body Shop beauty product
$14 - thebodyshop-usa.com



The Body Shop beauty product
$4 - thebodyshop-usa.com