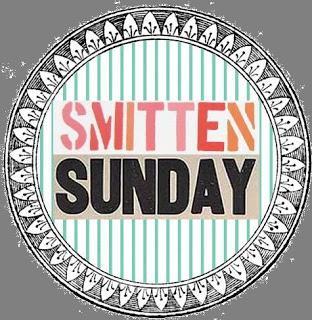 Hey you!
Sorry for the slacker blog lately you guys. The past week was NUTS for me! But, just know that I think about you, and miss Frances Is A Beauty every time I can't squeeze in blog time.  I am super excited that I found time to spend here tonight! Yay for Smitten Sunday!
Want:
Mango Ombre Sequined Sweater, $89.00
shop.mango.com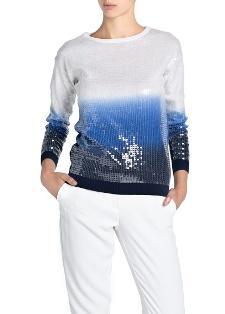 Photo Credit: shop.mango.com
I have a serious cardigan problem. I wear one daily, for real. Even if it super hot and muggy, you will find me wearing a cardigan. Most times my cardigan is accompanied by a scarf. I don't know why. It's just how I roll. I love the versatility cardigans offer. Cardigans are the champions of layering. It can easily be removed or put on depending on how chilly I am. (I'm always chilly.) Sometimes though it would be nice to stray from my beloved cardigans and try something else. Spice up my stupid "sweaters forever!" problem. This gorgeous crew neck sweater from Mango would be a nice diversion. The long, lean cut is super flattering, and the shorter sleeves make it seem somewhat appropriate to wear during the sweltering summer months. The fabric is a
ll sparkly, and I can see this piece easily dressing up or down. Plus, the ombre print is in my favorite color....blue. A great neutral! I wear this with my khaki shorts that have a black tuxedo stripe going down the side and a pair of wedges. Done and done. Cardigans need days off too I guess.
Need:
Pixi Early Bird Kit, $34.00
target.com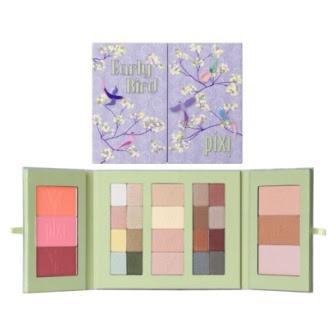 Photo Credit: target.com
I originally saw the Early Bird Kit on Pixi's website a few weeks ago and freaked out a little when I went there tonight and couldn't find it anywhere on the site. After a quick Google search, I luckily found it on trusty target.com. Good ol' Target never lets me down! Pixi's Early Bird Kit was designed to "make it simple for you to greet the day looking like you got up early." This is a great beauty goal to strive for everyday, but since I always get up early, I decided to tweak the description a little to make it more applicable to my life and needs. I'm selfish, get over it. I came up with "make it simple for you to greet the day looking less like the coffee guzzling, pale as death grouch you really are in the morning and more like the spunky go-getter who does it all while smiling and remaining naturally beautiful all day long." It's a longer description but it fully captures my daily beauty goals.
This kit will help me bring out my inner Susie Sunshine with it's soft daytime hues. Packed with three cheek colors, two bronzers, one face glow, four eye base shades and a whopping sixteen eye shades in colors that will enhance my fair skin tone and not make me look like I applied my makeup in preparation to pose for my Glamour Shots photo shoot. Why was that ever popular? Ick. 
Of course, since I always find ways to overspend at Target, I will have to round out my order with a few extras from Pixi. I will need their Large Lash Mascara in Bold Black, $18.00, to separate, lengthen and plump my eyelashes and Pixi's Lip Blush in Energy, $18.00, to add budge-proof color to my lips. Plus I can't imagine a better partner for my Early Bird Kit than a lip product named Energy. Because energy....in the morning....well you get it. 
Have:
Freeman Beauty Charcoal & Black Sugar Facial Polishing Mask
$3.99 for a 6oz tube or $1.99 for a 0.5oz travel packette
freemanbeauty.com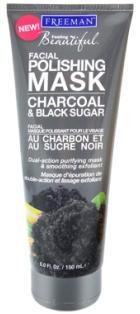 Photo Credit: freemanbeauty.com
I love scrubs and I love face masks. Putting the two of them together in one tube is magical in my opinion. I was browsing around Rite Aid when I stumbled upon this. I have always liked the Freeman brand and have tried almost every product they offer. It is all reliable, effective stuff at decent prices. Nothing wrong with any of that. So, this caught my eye since it was new and I had never tried it before. 
I became more interested in this product once I read "charcoal". Charcoal is a skin purifying hero. Charcoal will not rest until it has successfully sucked all of the nasties out of your skin. As I continued reading the back of the tube my excitement grew. Sugar scrub? Mask? $3.99?? SOLD!! 
As far as scrubs of any kind go, I prefer sugar formulations. Salt does not treat my skin well, and weird unidentifiable scrubbie bits are well, weird. Sugar is gentle to my sometimes sensitive skin, and I like how it dissolves once you introduce water. Freeman added the Black Sugar to whisk away dead skin cells to make your skin softer. 
I took this out for a test drive the night I brought it home. Applying the mask is kind of difficult since it is all sugary. Freeman didn't scrimp with the sugar. Trust. My kids got a good laugh after I finished slapping it onto my face. Apparently I resembled a sea monster or witch of some kind. Whatever. I have been called worse. The directions say to leave the mask on for 5-7 minutes so I did what I was told. This isn't mentioned anywhere on the packaging, but I SWEAR there was a slight warming effect while the mask was on my face. Maybe it was my irritation level slowly rising after being ridiculed by my daughters. I am going to go with the mask has a warming effect. Makes me sound like a better mother. After 5-7 minutes elapsed I went back to the bathroom and scrubbed the mask around just like I was applying any other facial exfoliating product. The mask does not dry like a clay or gel mask. Everything rinsed off easily and my face looked all pure and matte. I love this stuff! I am planning on stocking up when I run out of my first tube. And, to be honest with you, some days I have used this just as a face scrub/cleanser without doing the whole mask bit. It rocks!
Happy Sunday Sweet Readers!