Let's talk about J.F. Lazartigue's Soy Milk Strengthening Serum for Fine Hair!
*This product was sent to me for review. All opinions are my own.*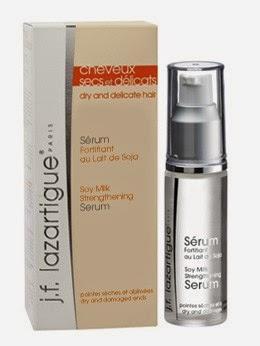 Image Credit: J.F. Lazartigue
What Is It? 
J.F. Lazartigue Soy Milk Strengthening Serum for Fine Hair

How Much Is It?

$42.00 for 1 fl oz

How Does It Work?

The Soy Milk leave-in serum nourishes dry strands and strengthens split ends without weighing hair down. 
The non-oily formulation smooths down the scales of the hair shaft, leaving y
our locks soft, silky and bouncy all day long. 

How Do I Use It?

The serum can be applied as often as you wish after blow drying. Recommended for use on the ends of hair.

Where Can I Buy It?


J.F. Lazartigue's website!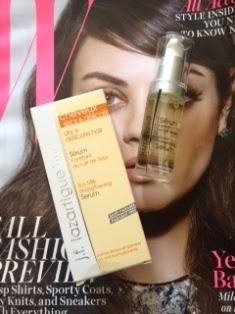 Uh.... yes. My title is correct. Serum for FINE HAIR! Um what's that you say? Impossible? Fine hair hates serums? It always ends up looking flat and weighed down? Okay, whatever. I will admit that I used to think this way as well. My hair HATES serums. I love them though and have always had such high hopes for them. But any hopes were quickly lost after glancing in the mirror at my slick strands. I have
never
 seen or heard of a serum made specifically for fine hair. When I received this fancy little glass bottle I was intrigued and excited but didn't expect miracles. But you guys, J.F. Lazartigue did not let me down. The Soy Milk Strengthening Serum is pretty awesome! 

It is very liquidy and smells so good. Very light and fresh. I have applied it to wet hair before blow drying and it made my hair really soft and very full. I have also applied it to dry hair and the serum smoothed my hair without weighing it down. I should also note that I applied it all over my hair and not just on the ends as recommended. It is an excellent mid-day fix for lifeless hair. I can see me using every last drop of this miracle serum and then rushing to buy more. I'm hooked and cannot live without it now! 

Highly recommended
 for my fine hair readers!