Yes! Another usual no-no for fine hair....the treatment mask. And yes, another hair product that I buy with high hopes only to be let down time and time again. But as always, J.f. Lazartigue has my back and truly delivers excellence with this decadent but lightweight strengthening mask. 
                          *This product was sent to me for review. All opinions are my own.*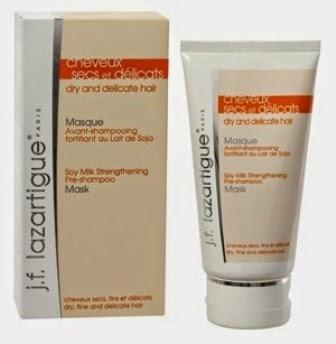 Image Credit: J.F. Lazartigue
What Is It?
J.F. Lazartigue Soy Milk Strengthening Mask for Fine Hair
How Much Is It?
$47.00 for 5.07 fl oz
How Does It Work?
This deep treatment mask is specifically formulated for dry, delicate and fine hair. It restores strength, vitality, density and volume. Red Algae coats and protects hair from further damage. Soybean Oil and Soy Milk active molecules moisturize and infuse hair with volume, giving it long lasting body. 
How Do I Use It?
Apply the cream to the most damaged part of hair BEFORE shampooing. Massage in well and leave on for 10-30 minutes. Rinse thoroughly. 
Where Can I Buy It?
The J.F. Lazartigue website!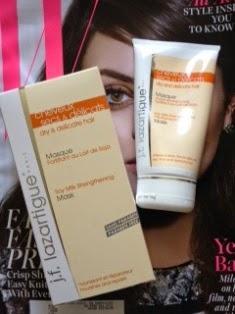 I have to admit, the first time I used the mask I skimmed over the directions pretty quickly and missed the part about applying it to dry hair BEFORE shampooing. So I shampooed (with JFL's divine orchid scented shampoo of course) then applied to wet hair (from roots to ends despite recommended use) and let it hang out for 10 minutes. While I was rinsing I immediately noticed a difference in how my hair felt. It definitely felt fuller. I thought I was imagining things though. But oh man, after blow drying my hair was still super full. All bouncy and FULL OF VOLUME. I did a happy dance and maybe sang a song into my hairbrush in front of my mirror while flipping my hair around. The Soy Milk Strengthening Mask is seriously a beauty blessing and one that I will continue to use for a very long time. 
I totally recommend this!