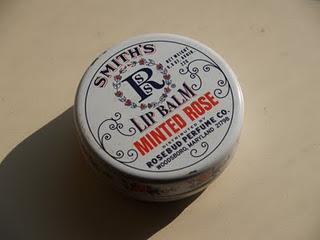 This is probably the most famous of basic lip balms, perhaps except for Kiehl's. The original is just Rose Lip Balm, and has a very subtle, pleasant rose scent. This one has just a hint of mint mixed in, but is just as subtle. 
In texture and effect it is very similar to vaseline - slick, spreads easily and works wonders. I have a lot of trouble with dry skin - including lips - particularly in the winter. This makes it very difficult to wear bright and dark lipsticks as they tend to dry out and go patchy. Matte lipsticks are simply out of the question. I find that a little bit of this at night helps keep my lips from becoming too chapped, peely and flaky, and means I can wear some colour, even in the winter.
The absolute best use of this is as a lip exfoliant. Bear with me, I haven't gone nuts. This product alone clearly isn't an exfoliant. However, if you take a Q-Tip or cotton bud and roll it in this balm so that you have just a thin layer, then rub the lips gently but firmly, it does an excellent job of taking off any dry or flaking skin and leaving the lips smooth and ready for lipstick application. It's also great to condition the lips while you put on the rest of your makeup, and can then be removed with a tissue just before applying color. The final use of this (aside from alone as a lip balm, of course) is to add a hint of gloss over top of a coloured lip product if you want to add another dimension.
Verdict? Must-have.


Ratings:




Packaging:

4/5 (Be careful not to store this upside down or on its side - particularly in warm climates - as it will melt and move around!)

Product quality:

5/5


Worth the price?

Definitely.


Would I purchase again?

Have done and will do again.


Cruelty-Free?

Not sure - looking into it!

Where to find it: Sephora in store and online.