When we got out for Italian food I am always drawn to the hearty comfort foods like ragu or baked pastas. I love that cooked all day flavor. Now I really don't have time for that during the week but throwing a pork roast in the slow cooker on Sunday is pretty easy to do.
While I was at the gym on Sunday morning Scott spent a whole ten minutes and got this going in the crockpot. Even by the time I came home the house was already smelling amazing. Fast forward 7 hours and I was coming home from a party and all I could think about was the pork ragu with fettuccine and the cabernet sauvignon we were going to have for dinner.
This is hearty, rich comfort food. While not unhealthy I wouldn't call this a superfood. But it tasted pretty darn good. Served over fettuccine noodles (and I didn't even buy wheat, I wanted the straight up regular noodles) with the pork and a sprinkling of parmesan on top. It is seriously hard not to love this. If you do want it "saucier" you could have a jar of your favorite pasta sauce the last hour that the ragu is cooking and it will reduce down.I liked the flavor with just the pork and a bit of the juice.
It was even better with a hearty glass of red, comfortable clothes on and an evening in with my husband before leaving for a business trip. Real Simple really does have great inspiration for recipes, especially this one. It was the perfect Sunday dinner.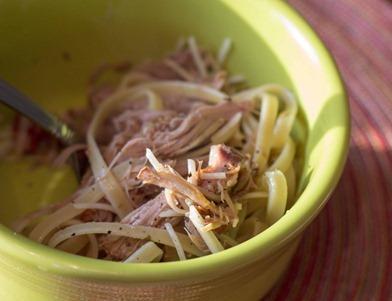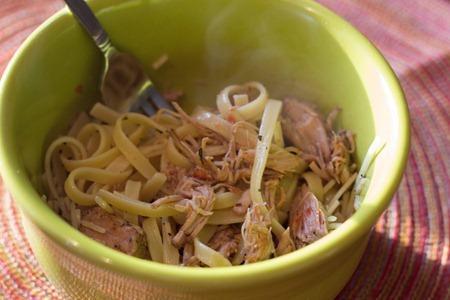 Slow Cooker Pork Ragu with Fettuccine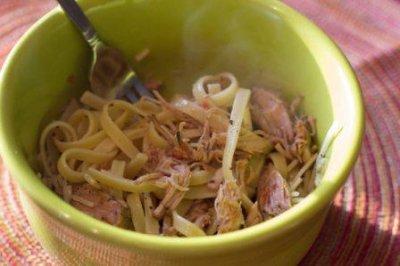 Prep Time: 10 Minutes
Cook Time: 8 Hours
Keywords: entree pork pasta
6043184
Ingredients (Serves 4)
1 large carrot, chopped
1 medium onion, chopped
2 cloves garlic, chopped
2 tbsp tomato paste
1 tsp dried thyme
1 tsp dried oregano
Salt/Pepper
1 14.5-ounce can diced tomatoes
1 1/2 pounds boneless pork shoulder or butt, trimmed and cut in half
3/4 pound fettuccine
Parmesan cheese
Instructions
In a 4- to 6-quart slow cooker, combine the carrot, onion, garlic, tomato paste, thyme, oregano, ¾ teaspoon salt, and ¼ teaspoon pepper. Add the tomatoes (and their juices); add the pork and turn to coat.
Cover and cook until the pork is very tender, on low for 7 to 8 hours or on high for 5 to 6 hours (this will shorten total recipe time).
Twenty minutes before serving, cook the fettuccine according to the package directions; drain and return it to the pot. Meanwhile, using 2 forks, shred the pork and mix it into the cooking liquid. Toss the pasta with the ragù and sprinkle with the Parmesan.
Powered by
Recipage