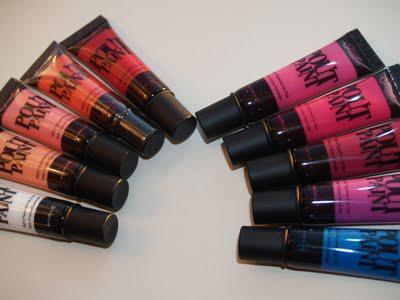 L-R: Cloud 9, Peachy Keen, Milkshake, Lava, Pin Up,Rosette, Pinkini, Port, Mauve Over, Peek-A-Bloo
You might have heard of Sleek's new lip products that were released just recently - most notably these Pout Paints. They're touted as being a (cheaper) dupe for OCC (Obsessive Compulsive Cosmetics) Lip Tars, which are packed with intense color that adheres to the  lips and lasts all damn day. They also remind me of MAC's Lipmix - which aren't as thick as Lip Tar, but also stain the lips and can be (as the name implies) mixed to create custom colours.
Sleek's version are just as intense in color as either one. They're a bit closer to Lip Tar in consistency, but are meant to be mixed like the MAC Lipmix. This is important to bear in mind so that you're not completely taken aback when you see that white and blue are both colours included in the line! No, they're not trying to send us off to work looking like we've been sitting in the freezer overnight. They're meant for creating your own shades.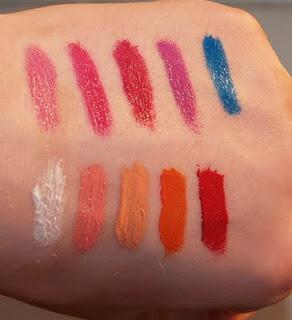 Top Row L-R: Rosette, Pinkini, Port, Mauve Over, Peek-A-Bloo

Bottom Row L-R: Clout 9, Milkshake, Peachy Keen, Lava, Pin Up
For everyone who's new to the concept of mixing (as I am), Wise She did a great blog post about the Pout Paints which includes some mixing of her own so that you can see what she did, and what the results were. It's pretty interesting. So far I've only experimented with very minimal mixing - mainly I've used these as a base with a gloss on top. 
What I can say is that they live up to a lot of the hype. They are incredibly intensely pigmented, they will stain anything they touch (including your fingers if you use them to apply - so be careful!) and the color will last for EVER. If you're looking for a way to experiment with bright colours and are concerned with the ongoing work of re-applying your lip color throughout the day, these might be a great way for you to branch out. I found them to be pretty similar to the OCC Lip Tars - but much cheaper.
The final word? If you like incredibly pigmented, long-lasting colours, these will really impress you. If you're curious about the OCC Lip Tars, these are probably a cheap way to experiment with a very similar product. If, on the other hand, you're someone who likes to fly under the radar with your pucker, these definitely won't be subtle enough for you!


Ratings:




Packaging:

5/5


Product quality:

5/5


Worth the price?

Definitely!


Would I purchase again?

Quality-wise, yes, but a little goes a really long way and they're too intense for everyday use, so I won't run out anytime soon!
Cruelty-Free? Not sure.
Where to find it: If you're in the UK, you can get it at drugstores. Anywhere else, check out Sleek online.