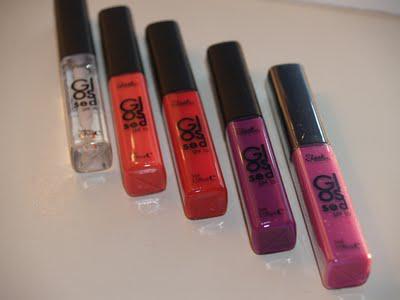 L-R: Clarity, Packs A Punch, Bitten, Pump It Up, Pixie
I am in love. But before I tell you all about my newest makeup crush, let me give a bit of background about the brand for those of you outside the UK who haven't heard of it!
I discovered Sleek after seeing their eyeshadow palettes used and reviewed by the Pixiwoo ladies. It's a British drugstore brand (yet another reason I wish I lived in the UK) that is known for excellent quality for an affordable pricetag.
I started with their Pout Polish, which turned out to be quite similar to MAC's Tinted Lip Conditioners - only coconut- instead of vanilla-scented. Intrigued, I moved on to their eyeshadow palettes and lipsticks, which did not disappoint.So a few months later, here I am, a Sleek convert in Canada. You can imagine my excitement upon hearing that they're set to launch new lip products. Of course I started searching online right away to get my eager little hands on some!
The first line are called Pout Paint. I've got these covered in another blog post here. But the ones I want to talk about today are the new line of lip glosses, called, predictably enough, "Glossed." I picked up a couple of these when purchasing some other British products - mainly because they were dirt cheap and looked pretty in the picture. Fast forward a couple of weeks - by which time I had pretty much forgotten about them - and they arrived in the mail. The colours looked really pretty in the tube, so when I needed a gloss to layer over my Bobbi Brown lipstick (Cosmic Raspberry, in case you're wondering), I reached for this gloss in Pixie.
Now we all know the problems with glosses. My personal pet peeve is a gloss that is goopy and sticky and leaves a residue on the lips. Like MAC Lipglasses. (Sorry, MAC.) They do their job, but they feel horrible. Not so with this gloss. It has a lovely coconut scent and glides on more smoothly than pretty much any other lip product I've ever used. It's sheer enough to layer over a lipstick, but provides just the right hint of color to wear alone. It's everything I could ask for in a gloss - and at drugstore prices, too!
Of course, I jumped back on my computer and stocked up on some more colours. Here they are: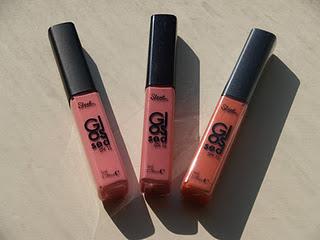 L-R: Whisper, Rumour, Blase
The final verdict? New all-time favorite. Do yourself a favour and get yourself some of these RIGHT NOW!


Ratings:




Packaging:

5/5


Product quality:

5/5


Worth the price?

Definitely!


Would I purchase again?

Already got a couple of backups!
Cruelty-Free? Not sure.
Where to find it: If you're in the UK, you can get it at drugstores. Anywhere else, check out Sleek online.