Review of:
Skechers GOWalk
Price:

£49.00

---

Reviewed by:

newwithhashtags

Rating:

4

On

January 15, 2014

Last modified:

January 12, 2014

---

Summary:
More Details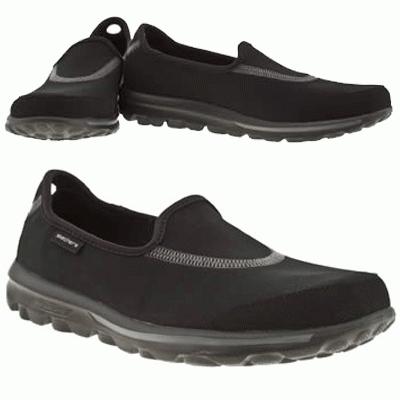 Skechers have a range of slip-on trainers which aid the way you walk. They are part of the GoWalk range, and there are several things which makes these shoes ideal for everyday life.
Although they aren't much to look at, these Skechers GoWalk trainers look fine with a pair of jeans or in fairly casual office environments. The issue with these shoes is once you have them on you won't want to take them off, and you certainly won't want to switch back to 'normal' shoes. The reason for this is that they are exceptionally comfortable.
These shoes are incredibly lightweight; so much so you'll forget that you're wearing them. What's more is the toes of these shoes are very roomy so they don't rub your toes, even when they're brand new. The material is also very light so they're cool in summer, and you won't need to wear them with socks as the sole has an anti-microbrial layer. However if they do get dirty or begin to smell you can pop these in the washing machine by placing them in a pillow case and putting them on a cool and gentle cycle. Don't tumble dry these.
The thing which makes these shoes the most comfortable is definitely the soles. The bottom of the Skechers GoWalks are covered in skidgy circular grips which make you feel like you're walking on air. They are so comfortable! They adapt to the way you walk as the sole is fully flexible. As such I've barely taken these off!
Now considering they are trainers and designed for lots of walking, I have noticed that the soles wear out after a few months, and the circular grips become flat. This in turn makes GoWalks incredibly slippery when it's wet. This is an issue they have attempted to rectify with the Skecher GoWalk 2 and the memory foam ranges.
Otherwise I'm very happy with these. They are £49 a pair so they aren't cheap, but they're comfortable, easy to put on and machine washable. Ideal! And students get 15% discount too.