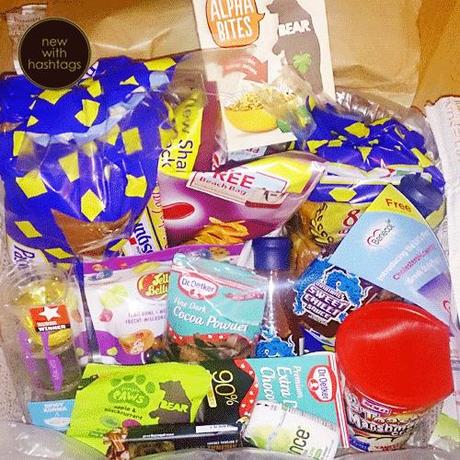 It's always a nice surprise to come home to a giant box of edible goodies. Carry on reading to take a closer look at what the November 2014 Degustabox contains.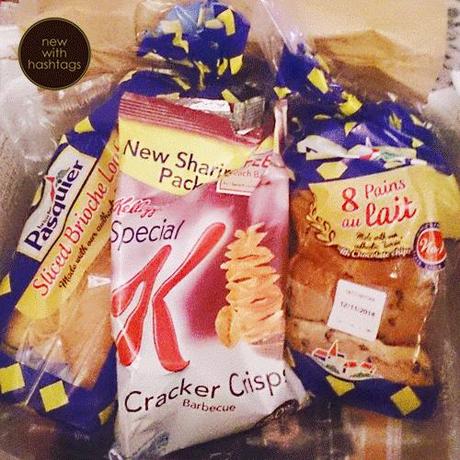 Special K – Cracker Crisps (£1.29)
Brioche Pasquier – Sliced Brioche Loaf (£1.69)
Brioche Pasquier – Pain au Lait with Choc Chip (£1.69)
I couldn't quite resist the Special K Cracker Crisps long enough to take this picture! They taste really nice and aren't greasy at all. I liked them and would buy them again. However I probably wouldn't buy either of the Brioche Pasquier bread items as they're incredibly sweet. They've been in previous Degustaboxes and I didn't much care for them then either.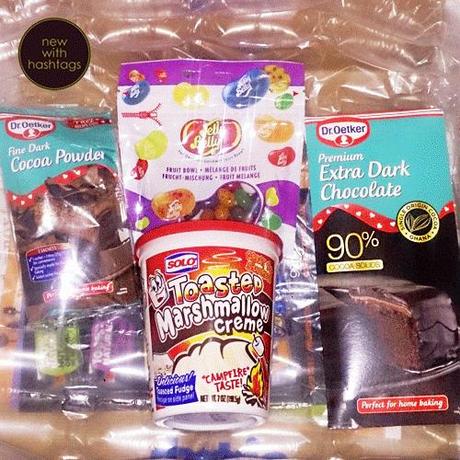 Dr Oetker – Fine Dark Cocoa Powder (£1.89)
Jelly Belly – Jelly Beans (£2.50)
Solo – Marshmallow Creme (£1.99)
Dr Oetker – Premium 90% Extra Dark Chocolate (£2.49)
Sweet treats are always welcome! However I'm getting a little bit fed up with all of the Dr Oetker baking products I'm receiving from Degustabox. There's already been cooking chocolate, cupcake cases, cake toppers, vanilla essence, etc. I feel the Dr Oetker route has been exhausted a bit. The jelly beans and marshmallow creme were a bit of a surprise, but both are far too sweet for me. I wouldn't buy any of these products.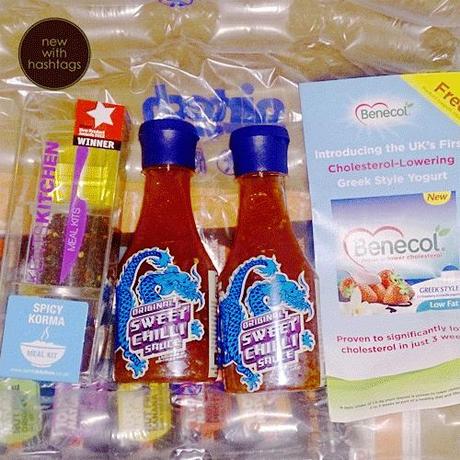 Kent's Kitchen – Meal Kit (£2.50)
Blue Dragon – Sweet Chilli Sauce (2 x £1.39)
Benecol – Greek Style Yoghurt (free voucher)
I love spicy foods so the meal kit and sweet chilli sauce definitely appealed to me. Despite this, I wouldn't buy the spicy korma meal kit because you still have to add coconut milk, meat, veg and rice, so it's not really a meal kit but just a few herb pots. As such, I think it's unreasonable paying £2.50 just for this kit considering a whole meal would then cost £6-8!
Bear – Alphabites (sample present)
Bear – Paws (£0.55)
Getbuzzing – Original Nutty Flapjack (£1.30)
Enhance Drinks (£2.49)
A couple of months ago we received a full size box of the Alphabites which were alright, but I don't eat cereal so I didn't bother finishing them. It's disappointing that this is another brand I've already received from Degustabox, especially as the Bear Paws fruit bits weren't even that nice. The flapjack was decent, but I wouldn't pay £1.30 for it, and I don't tend to flavor my water so may not use the Enhance drinks lemon and lime flavouring.
On first impressions, this box looks great. It was bursting full of goodies and it's such good value for £10 + P&P, and there's a real variety of products. However I want to discover some new brands in future boxes, and possibly even some food from different countries.