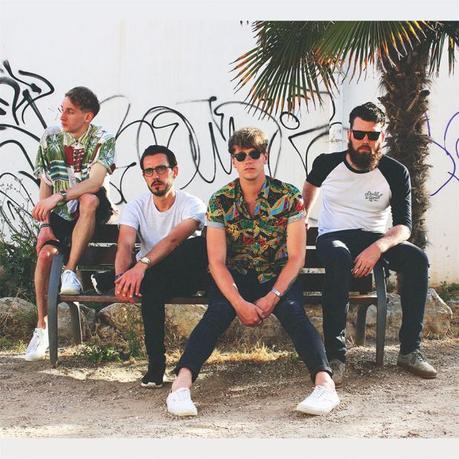 Review by Ellie Garno
Having recently played The Great Escape, Live at Leeds, and International Music Summit in Ibiza, Delamere is currently on their third UK tour and growing.  You may remember the Stoke-based band from last October, when we featured their big and bold single "Heart." Last Friday, Delamere—James Fitchford (guitars, keys, and vocals), Will Mason (drums and electronics), Ashley Egerton (guitar), and Richard Dawson (bass)—launched their self-titled debut album at a special hometown release party at All Saints Church in Leek, England.  However Delamere has been streaming in advance on Clash Magazine, who are calling it "a true statement of intent, the sound of a group with energy to burn."  "Black and White Space," premiering last week on The Line of Best Fit, is the second track released off the album, and it is full of color from beginning to end.
"Black and White Space" opens with guitars that twinkle like the stars.  It later features clean-cut percussion and vocals, as well as some Stomp-type weird stuff.  "Black and white space is all we need," Fitchford sings over and over.  As someone who is easily overstimulated, I can relate.  "Black and White Space" then crescendos till the end, sounding like some sort of shoegaze lullaby (very Mylo Xyloto-Coldplay).  Casually was just listening to a Spotify playlist called "Vacation Haus," so you know I'm into it.  Hear the news below.
Filed under: Reviews Tagged: black and white space, delamere, single review