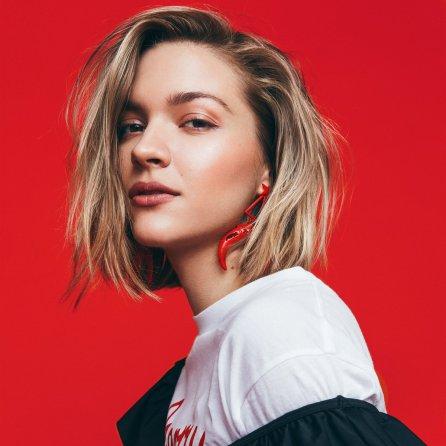 On Wednesday, October 3, Tove Styrke donned a pink bralette (Happy Mean Girls Day!), leather pants, and a glitter adorned cowboy hat, and took the stage at Le Poisson Rouge. The stage was alight with electric, colorful roses; a nod to Sway's cover art.
The Swedish pop artist is on a North American headline tour promoting her latest record, Sway, which was just released this past May. The album includes standout tracks "Sway," and "Say My Name," which were definite crowd favorites, and has been dubbed an "irresistible pop goodness" by Billboard.
Joining Tove Styrke is 16-year-old artist, Au/Ra, who won the audience over with pop, trance songs with irresistible beat drops. She also told the story behind an unreleased track, "Drake," which I haven't gotten out of my head since hearing it. A confident Au/Ra found the "In My Feelings" artist's Fornite name and decided to make the first move to add him. Unfortunately, he didn't return the favor, but it sparked inspiration for a fun song containing lyrics, "I tried to find Drake on Playstation, but he must've been on vacation."
When Tove Styrke hit the stage, she turned the small New York City venue into an electric dance party. She performed each song with high level intensity and that energy transferred to the crowd. It was one of the most interactive crowds I've seen in a while, and there were dedicated Tove Styrke fans. Both during and after her performance of "On A Level," the crowd continued to cheer and clap for what felt like minutes while an awestruck Tove Styrke took it all in and thanked them.
She closed the show with "Sway," passed roses out to the crowd, but came back shortly for an encore. She performed an acoustic version of her collaboration with NOTD, "Been There, Done That." It was a refreshing change of pace and nice to really hear her airy vocals in a stripped down version of the song. Lastly, she left the audience with their "last chance to dance" and ended with "Number One."
With the crazy times we've had lately, this show was a perfect mid-week escape. Be sure to catch Tove Styrke on the remainder of her tour!