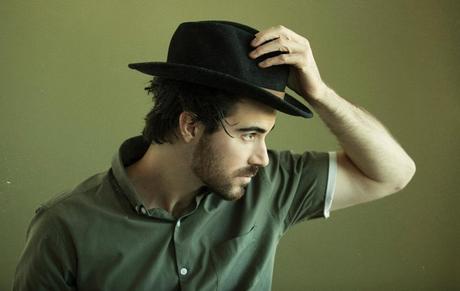 Last week, I saw Joel Taylor close out a Sofar Sounds show in a (huge) living room in Soho, NYC. After the show, I just knew I had to interview the talented, Australian born but LA-based singer-songwriter and learn more about his musical background and inspirations.
Joel Taylor came on the scene in 2017, with his double single release, TwoSides; a release that shows the two sides (pun intended) of the artist. "What Good Is Love" is an acoustic-driven love song, with "Two Sides" being a piano-driven, energetic ballad. Recently released is "Moment's Notice," a track that Joel describes as "a gospel hymn about rebirth." 
Continue reading to see what Joel Taylor had to say about the inspirations behind his latest release, his writing process, and his musical family.
How did you get your start?
My start goes pretty far back into my family history. My grandfather was a piano player and played with The Beach Boys, The Everly Brothers, and Roy Orbison. He also had his own successful band in Australia. Then my mom (his daughter) is also a great piano player, and my Dad was a jazz singer in the 70's. So you could say it's definitely in my blood.
I came to the US the week I finished high school to pursue music, and I got my start by playing at a Piano Bar in Hollywood where I'd play 3 to 4 hours straight and sing hundreds of songs. That was my first LA gig. Then I became a sessions musician for the last 5 or so years. Finally, I gave in and began to pursue what I really wanted to do in life which was to be an artist; to write and sing my own songs.
Who or what has inspired your sound and latest track, "Moment's Notice?"
"Moment's Notice" was definitely inspired by old southern gospel. I really wanted the song to feel like a hymn. I wanted it to have that soaring quality that a lot of gospel has, but with the sensibilities of being a songwriter and writing pop songs.
Ray Charles, Stevie Wonder, The Blind Boys of Alabama, and even Van Morrison; these are some of the people I was listening to a ton while making this song!
What is your favorite show memory?
My favorite show memory is when I recently played at the Sayers Club in Hollywood, and there was a line out the door and down the street. That was pretty cool!
What would be your dream tour and why?
My dream tour would be in Australia and all over the world – playing alongside a great songwriter or band, with a power and a history. Paul Simon, John Mayer, Taylor Swift, Norah Jones, or Stevie Wonder. Someone with a great voice and we'd do a double bill. That would be my DREAM tour!
Tell us about your writing process; any unusual quirks?
My writing quirks are probably pretty normal. I sometimes only write pages of lyrics and work out music later. Sometimes piano is first and lyrics later. Sometimes one single sentence can launch into a whole song/genre/style. I sang and played "on a moments notice" straight away. I put the words and lyrics together while improvising in the middle of the night!
I'm probably a little funny in that I like to have lots of instruments around while I'm writing. I get bored easily and want to keep the idea flowing on bass, instead of piano for example. So I love to be surrounded by a of options.
What's your favorite song to cover?
My favorite song to cover at the moment would be "Don't Dream It's Over" by Crowded House
If you were to create a "soundtrack to your life," what songs would be on it?
Soundtrack of my life…hmm here's a sample because theres just so many…
James Taylor – Carolina In My Mind
Billy Joel – New York State of Mind
Ray Charles – Georgia On My Mind
Marvin Gaye – Ain't Nothing Like The Real Thing
Stevie Wonder – Signed, Sealed, Delivered
John Mayer – Stop This Train
The Beatles – The Fool On the Hill
The Beatles – Across the Universe
Toto – Rosanna
Peri Como – Let it Snow, Let it snow
Harry Connick Jr. – A Wink and a Smile
Prince – The Beautiful Ones
Bruce Springsteen – Born To Run
Paul Simon – American Tune
Billy Joel – Lullaby