Having eaten a few pasta dishes with a vodka sauce over the years while out at restaurants I figured why not try it at home. When the April issue of Cooking Light featured a recipe for it, I figured now was the time.
A lighter, healthier version with shrimp sounded pretty darn delicious. Thankfully we had a HUGE bottle of Costco vodka in our liquor cabinet. Have you seen this vodka? We've had this for at least 5 months and have barely made a dent through a few parties and bloody mary's. They make some really good vodka!
Whole wheat noodles, a lighter cream sauce and nice tender shrimp made for a great dinner. It also just so happened to be one of the last meals we made at the old house.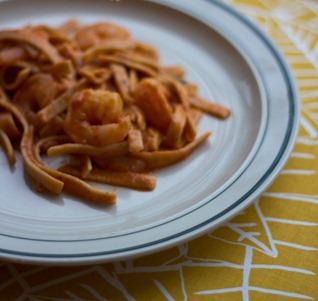 Shrimp with Vodka Sauce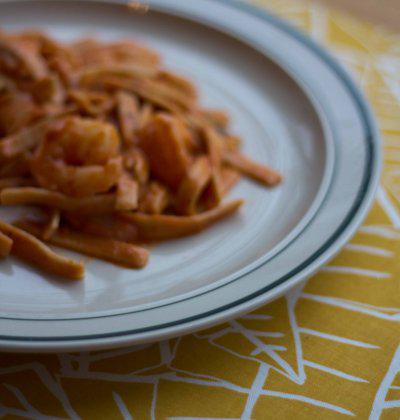 Prep Time: 15 Minutes
Cook Time: 20 Minutes
Keywords: entree Shrimp
6023188
Ingredients (Serves 4)
1 pound whole wheat fettuccine noodles
Olive Oil
1 pound large shrimp, peeled and deveined
3 garlic cloves, thinly sliced
1/3 cup vodka
1 1/3 cups marinara sauce $
1/3 cup chopped fresh basil, divided
1/4 cup heavy whipping cream
1/2 teaspoon kosher salt
1/4 teaspoon black pepper
Instructions
Cook pasta per directions. Drain.
Heat oil in a large skillet over medium-high heat. Add shrimp; sauté for 4 minutes or until done. Remove shrimp from pan.
Add oil and garlic to pan; sauté 1 minute.
Carefully add vodka; cook 1 minute.
Add marinara, 1/4 cup basil, cream, salt, and pepper; bring to a simmer. Stir in pasta and shrimp. Sprinkle with remaining basil. Serve.
Powered by
Recipage