Shoney's Broccoli Casserole
To actually enjoy a meal with casserole you need to explore the fundamentals of it first. I am not saying to go into the scientific bit of casserole if it is good for you or not but what I am trying to say here is to have the right mind set before trying to attempt to cook this broccoli casserole. Honestly if you give it your all you`ll love your end results but if you just want to make it for the sake of it than I would say just forget it. Now I am a big fan of Shoney`s broccoli casserole and after many attempts I think this is as close as I got to make the actual thing. This broccoli casserole is a great dish to be had with your healthy lunch ideas or for any other meal. Try it and tell us what you think.
Ingredients:
6 Cup broccoli florets, coarsely chopped
1 1/4 lbs. Velveeta cheese
2 eggs
3 Cup cooked rice
3 Cup half and half
1/2 Teaspoon salt
1/2 Teaspoon black pepper
Cooking spray
1 Cup Ritz crackers, crushed
1 Cup shredded cheddar cheese
Directions:
Place eggs in mixing bowl and lightly whip for approximately 20 seconds.
Add broccoli florets, cooked rice, salt and pepper.
Mix well to incorporate ingredients.
Dice Velveeta into 1/4″ inch pieces.
Place diced cheese and half and half in microwave safe container.
Cover and microwave for 2 minutes or until cheese is melted.
Add to ingredients in bowl.
Blend well to mix all ingredients.
Spray 9 inch pan with cooking spray.
Pour casserole mixture into pan.
Place in a 350 oven and bake for 30 minutes.
Top casserole with Ritz crackers and cheddar cheese and cook for 5 minutes more, or until cheese melts and crackers brown.
Enjoy!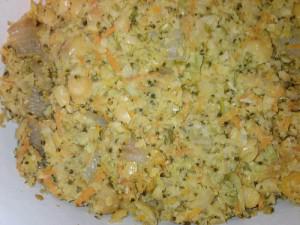 Photo by: olga666flickr