You guys....my lips just said AHHH. But not a terrified AHHH! More of a super relaxed AHHH....
No I haven't lost it.  Today I am talking about a superior lip treatment. Something so healing and soothing that your lips will kiss you to thank you. Which, I guess that means that they will kiss themselves because they are your lips, and in order to kiss you they will have to kiss themselves. Um...I just confused myself but hopefully you get the idea.


Photo Credit: forgoodnessgrape.com
For Goodness Grape's Lip Melts Organic Lip Butter are handmade by the owner of FGG Lisa. They were designed by her to be healing for not only your lips, but your spirit too. Lip Melts are made from sustainable ingredients that were selected for their incredible healing powers.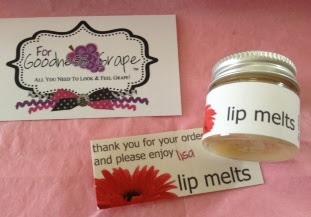 Love that bright and cheery flower!
Lip Melts are a new product offered by For Goodness Grape. Because of their newness, I was surprised to see how many scent/flavor options there were. I chose the "Lip Ahhh...." version and I am so thrilled with my choice!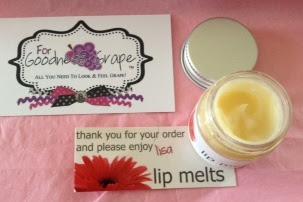 Just look at how whipped and creamy this is!
The formula of my Lip Melt was to die for! Like buttah y'all. I was tempted to slather it all over my body. I will tell you that after apply to my lips, I have been rubbing the excess into my cuticles. It's so good. I don't think that I am alone when I say that I love a product with an ingredient list that is full of ingredients that I can pronounce, identify and that are beneficial. The ingredient list for For Goodness Grape's Lip Melt reads exactly this way. In fact, I was able to pronounce and identify everything on the list. 
Shea Butter, Cocoa Seed Butter, Sunflower Seed Oil, Pumpkin Seed Oil, Olive Oil, Rosehip Oil, Castor Seed Oil, Evening Primrose Oil, Candelila Wax, Vitamin E and essential oils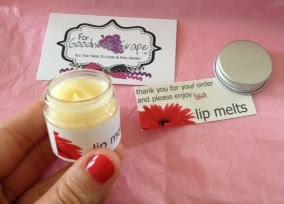 AHHH....
Here are the aromatherapy benefits of my Lip Melt:
Vanilla- calming, comforting and balancing
Lavender- balancing, soothing, normalizing, calming, relaxing and healing
Chamomile- calming, relaxing and soothing
Rose- romantic, supportive and gently uplifting
That's a whole lot of Ahhh.... if you ask me. I keep my jar on my nightstand to help relax me before bed. 
So if you feel like you could use some soothing, or if you want to be as relaxed as this guy....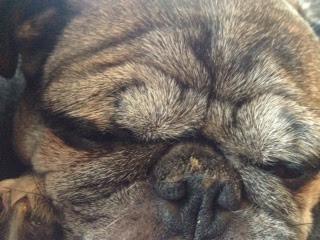 #1 Guy in my world. 

reserve a spot on your nightstand for this gem of a lip balm and grab one for yourself RIGHT NOW!


Now for today's giveaway. You guys should know the drill by now. I did decide last night to change things up a bit though. Running a giveaway for one day just really doesn't give everyone in the world enough time to enter. I want to give everyone a fair chance. So I have decided that for the rest of this week, I am going to run the rest of the giveaways until Monday at midnight and announce the winners after confirming them hopefully early next week. Sound good? I'm a genius and you can thank me later. XO!



a Rafflecopter giveaway