Shaving is a pain, but it is necessary. I would have no problem walking around covered in hair, but somewhere along the way that became socially unacceptable for women. So I shave. I hate it. Every morning in the shower I freeze my tushy off, which results in goose bumps on my legs and then a massacre occurs. When I shave over my cold, goose bump covered legs, I am left with nicks and cuts everywhere. It is THE WORST. I have to endure a pain daily all in the name of smooth legs. Not to mention the tiny red marks all over my legs which stick out like sore thumbs on my super pale skin. Thank heaven for black tights and winter!
To my delight Remington sent my husband and I fancy electric shavers to try out. We received the Dual Flex Foil Shaver for him, and the Smooth and Silky Shaver for me. Hubby and I were anxious to get started and we have been using our gadgets for three days. Curious to hear about our experience? Well continue on eager reader!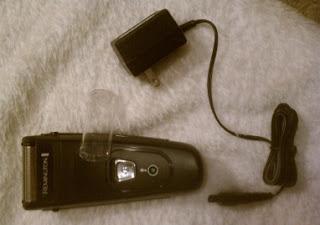 Dual Flex Foil Shaver and Accessories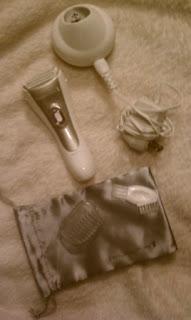 Smooth and Silky Shaver and Accessories
(We were so anxious in fact, that I forgot to take picture of the products while they were still in the boxes. Oops. Beauty blogger FAIL.)
I will start with Hubby's Remington experience. The Dual Flex Foil Shaver has dual flexing foils that adjust to the contours of your face, chin and jaw giving you a close, even shave. There is a built in trimmer feature which eliminates the need for attachments. It is cordless comes with a charge station that you plug into the bottom of the shaver. When fully charged, you can count on forty minutes of shave time before needing to juice up the battery again. It also comes with a cleaning brush and is backed by a two year warranty. The shaver retails for $34.99 and can be purchased at remingtonproducts.com.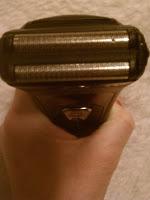 Top of the Dual Flex Foil Shaver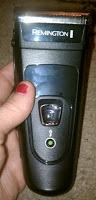 Front of the shaver, on/off switch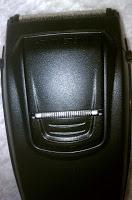 Trimmer closed on back of shaver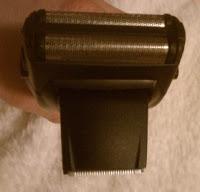 Trimmer open and ready to be used
Currently my husband is rocking a beard (a trimmed one!) so really he was just testing out how well this trimmed things up and how close a shave he would get on his neck. He has more experience using an electric shaver than me and uses one from a different brand when he does trim and shave. He said that the Dual Flex Foil Shaver gave him a closer shave on his neck than his other shaver. The trimming feature was effective in helping him achieve the look he was after. It was easy to use and he like the feel of it in his hand. (It has an ergonomic grip!) He also liked the fact that it is compact and will be easy to travel with. All in all a fantastic, effective product!
Now on to me....
I was new to electric shavers so I had no idea what to expect. I figured it would be the same as using a regular razor but noisy and electric. The Smooth and Silky Shaver effortlessly glides over skin removing unwanted hair while an Aloe Vera moisture strip nourishes and revitalizes your skin. The shaver comes with a charging base, a cleaning brush, a bikini trimmer head guard and a really pretty silver pouch to hold everything in. When fully charged the shaver can be used for thirty minutes and it is backed by a two year warranty. The Smooth and Silky Shavers retails for $54.98 and can be purchased at remingtonproducts.com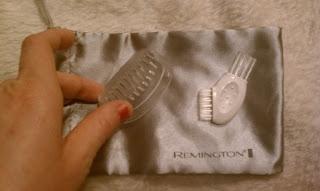 Bikini head guard, cleaning brush and fancy silver pouch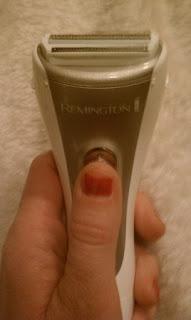 on/off switch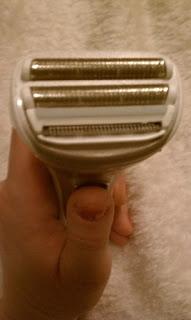 Top of shaver. The blueish strip is the aloe strip.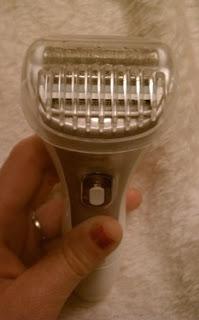 Shaver with the bikini head guard on. Its basically a comb that feeds into the razor.
I was excited about this shaver because it can be used wet or dry. Meaning I could shave my legs
outside
of the shower while still wearing my bathrobe. Take that goosebumps! So I started shaving. I was nice and toasty in my bathrobe shaving my legs! The shaver glided over my legs with ease. It navigated my hilly knees without a snag. My hairy thighs were no match for the Smooth and Silky! My smooth legs walked me into the shower where I used the shaver on my underarms without a problem. Then, and this is the best part, I put on the bikini head guard. It did an amazing job trimming up....um...well....down there. Great for in between waxes or for gals who don't wax but like their bushes trim. Ingenious for hair down there!
I will admit that it wasn't all roses. I think I got a little carried away on my underarms because the next day they were sore, red and angry. The next time I shaved I took care not to push so hard. Also, don't get discouraged if you have a hard time removing some hair. A lot of times with a new electric razor it takes a few times to get a feel for how to hold the razor and use it so that it works best for you. I love this product and will continue to use it. It has eliminated my nicks and cuts and my legs look a thousand times better as a result. It's fun and easy to use and will last a lot longer than the disposables I was using, which I would imagine, will save me money in the long run.
I would recommend this to everyone all around. The Dual Flex Foil Shaver would be a great gift for the man in your life! Ladies, try Smooth and Silky shaver! You will NEVER go back to disposables again!
Thanks to Remington for sending these out to us!