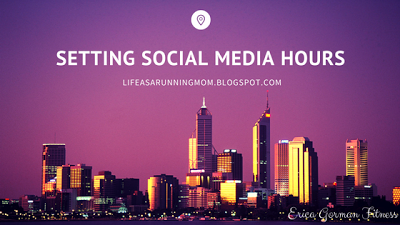 Oh how time can get sucked away one tweet, one post, one more glance at a time. I really do not want to get sucked into social media at times but at other times, it is an AMAZING way to connect and stay connected with friends and family when you are essentially stuck in the middle of the Pacific. Trust me, it has its benefits but lately I feel it is owning me versus directing me. I do need to stay plugged in for work and all I do but I realized, I need to set boundaries.
One thing I do with social media beyond family fun is work. I blog, I am a Beachbody coach, I have clients and challenge groups, and I need to stay connected. Not only do I need to, I WANT to. I love what I do so much! But I still need boundaries. That is the down of social media. It goes everywhere with you and makes it easy to work everywhere but do I need to always be working? Some may say yes. That is how you will grow your business. Trust me, I get told that A LOT! Yes, got it but I kindly disagree.
I am growing my business with the fundamental goal of a better, happier family. I want dear hubby to be able to retire one day and I want darling daughter to be able to lease a horse. All that takes money but am I willing to give up all of my now for that? Nope.
I understand to achieve big things you do need to make sacrifices in life. Got it. But I for one have never and will never completely sacrifice the now of my family for the dreams of the future. The only thing I am guaranteed is the now. Sorry, if that means I will fail, so be it. If it truly was meant to be, I will achieve all that I am to achieve while honoring my family and our precious time together on Earth.
I am setting hours.
And just in case you are curious of what they are and how you may be able to duplicate a similar theme in your life, here you go.
No work on Sundays. Period. If something so amazing happens that I can't wait to share until Monday, I will share but in all reality most stuff can wait. My challenge groups will honor Sundays as days to be with family, focus on faith, chill, and relax. This is not a green light to eat all the cookies but a day to rest. Just as God intended it to be.
Unplug after 7 pm. This typically is the start of reading time with darling daughter with lights out at 8 pm. I have been known to check in here and there and no more of that. It can wait until morning. If it is something so serious someone needs to get me, they know how to text or call me. Just saying. And honestly, since I am in the middle of the Pacific I can be HOURS behind my mainland clients and those in Hawaii, well, I am pretty certain they are okay hanging loose with me.
AM Power Hour. Get my work done in an hour tackling the big fish (or frogs) first. One focused hour. Get in, get out.
PM 1/2 hour check in. This one I may see the need to grow to another hour but I honestly want to see if in 30 minutes each afternoon I can wrap up my business for the day.
Creative Hour once a week. This may also grow to 2 hours if needed as this can be blogging, video making, etc and a lot of this I do with my daughter so it could be fun mother-daughter time. Blogging can also happen in my AM Power Hour so one Creative Hour may work just fine.
Sounds easy enough, right?
Now let's give it some time and see how it works as focused work could yield better results. I'll check back in with you on this in about a month.
Daily Gratitude: I am thankful for my family.
Daily Bible Verse: "Therefore I tell you, do not be anxious about your life, what you will eat or what you will drink, nor about your body, what you will put on. Is not life more than food, and the body more than clothing? Look at the birds of the air: they neither sow nor reap nor gather into barns, and yet your heavenly Father feeds them. Are you not of more value than they? And which of you by being anxious can add a single hour to his span of life? And why are you anxious about clothing? Consider the lilies of the field, how they grow: they neither toil nor spin, yet I tell you, even Solomon in all his glory was not arrayed like one of these. ... Matthew 6:25-34