I know I'm starting to say this every month but September's Amarya beauty box really is outstanding. It's my favorite yet!
For a start my postman usually manages to cram my package through our letterbox but this month I had one of those "your package is too big, please collect from the post office slips" instead. Exciting!
I collected my package yesterday and I couldn't believe it when I was handed a huge shoebox sized box with that familiar Amarya logo on it. Jackpot!!!!
I couldn't even wait to get home to open my box. I just tore it open in the middle of the street like a crazy person! So what did I get?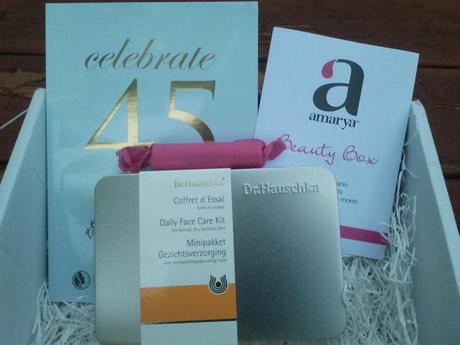 AMAZING right? I have a huge beauty crush on Dr Hauschka right now so I literally could not have received anything better than this beautiful little set. The fact that they actually threw in a lip conditioner from Herbfarmacy on top of that is just the icing on the cake. If you are reading this Amarya, you never fail to delight me!
Full Size Dr Hauschka Daily Face Car Kit RRP £17.95
The Dr Hauschka Daily Face Care Kit contains 10ml Cleansing Cream, 10ml Cleansing Milk, 10ml Facial Toner, 5g Moisturising Day Cream, 5g Rose Day Cream and 5g Quince Day Cream.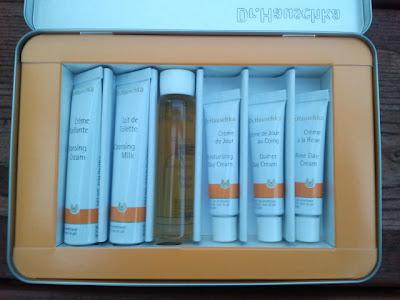 I am currently using the facial toner, cleansing milk and the Melissa day cream and can't sing their praises highly enough. I have written a full review of the Melissa day cream here and will be reviewing the toner and cleanser shortly. I believe I have oily skin so if I had one tiny criticism of this kit it would be that the Daily Face Care Kit for Oily skin might have been better for me,
however
I have never really been sure whether a dermatologist would class me as oily or combination. Having this kit with a mixture of different moisturisers and cleanser will allow me to trial different formulas and see what works best for me skin once and for all.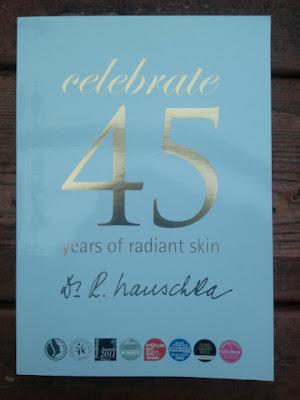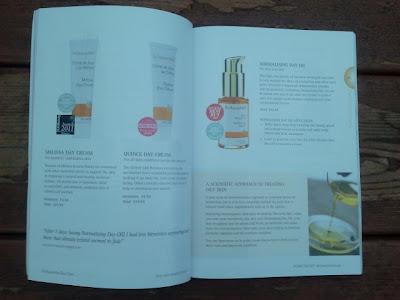 I also got a celebratory 45 year anniversary brochure from Dr Hauschka in my box too. It's thick, glossy and comprehensive. It's full of great skincare tips as well as showcasing all of Dr Hauschka's products. I devoured it like I would my favorite fashion magazine, which is Elle if you're asking!
My Dr Hauschka wish list is getting longer and longer and my 20% off the brand throughout September (which is included in my beauty box) is definitely going to be coming in handy!
Full Size Herbfarmacy Lip Conditioner RRP £4.50
This lip conditioner is a good chunky size. It's much thicker than your average stick of lip balm. It smells ah-maz-ing as it contains vanilla and marshmallow extract which makes it quite difficult not to just eat it!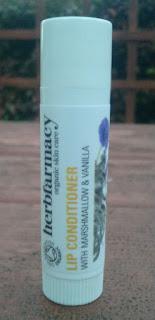 I think "lip conditioner" does sum up this product nicely. Lip
balms
 tend to me more fluid, shiny and glossy but this is solid, thick and matt. It gives a lovely soft, moist base for under a lipstick and isn't sticky in the slightest.  
What does everybody else think of this months box?
Lisa x