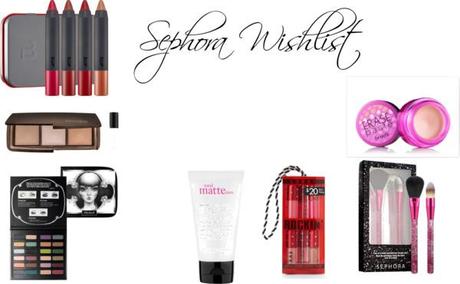 Sephora Wishlist by kristen-noel-williford featuring LORAC
It is finally the time of year that us beauty addicts love most: Sephora's 20% off sale. No doubt that all of us have been anxiously coming up with lists and greedily rubbing our hands together. At midnight, I am pretty sure I actually went "muahahaha." Maybe I am a little crazy.  Anywho, I have been looking online and tonight I went to my local Sephora inside JC Penney to scope things out.  I have narrowed my wish list to these items. And sadly I still have a lot more narrowing down to do.
1.) Bite Beauty Best Bite Set $25I have been curious about Bite Beauty for awhile now, but have never gotten around to trying their products out.  This set is an amazing deal.  For $25, you get four 0.05 oz pencils in great colors including a red, nude, fuchsia and a berry shade. I swatched these in store tonight and they feel amazing.  I could tell that these are a quality lip pencil.
2.) Hourglass Ambient Lighting Palette $58I just looked on Sephora's site and I cannot find this palette anywhere.  Which means Lenox Square better have it in stock tomorrow.  I have heard so many amazing things about these powders. I was excited to hear about the palette so I could try more than one shade.  I am all for anything that will improve the look of my skin. 3.) Kat Von D Spellbinding Palette $55First of all, what eyeshadow lover would not want this palette? It is full of gorgeous shades.  I swatched a few tonight that were so pigmented and smooth, you would think that they were cream eyeshadows.  The drawing on the packaging creeps me out a bit, but it is also cool. 4.) Philosophy Total Matte-ness Cleanser/Mask $25The only reason I want this is because I want to try something new in skincare.  Plus my skin decided to go awry after being in good shape for awhile. This sounds like a promising product and I like that it can be used as a cleanser and a mask.
5.) Lorac Rockin' Red Mini Lip Gloss Set $20I really wish I would have taken a picture of these. They are so stinking cute! And they really are mini. In fact, I may not get this set because I am afraid that I will loose them all.  You get 6 mini glosses in this set and they are varying shades of pinks and corals.  Very pretty.
6.) Sephora Collection Two of a Kind Collection Duo $24 Pink, sparkly brushes? Yes, please! This duo includes a powder brush and a foundation brush with pink, glittery handles.  The bristles feel nice and soft, too.   7.) Beneft Erase Paste $26Because every over worked, stressed out girl on the go needs a good concealer. Enough said. What products are on your wishlist?