There are few things I look forward to more than Sephora's Spring Sale. The only thing better is the sale they do in November. Anywho, I have been picking out items that I would like to buy and I thought that I would share my wish list with you.
The first two items on my wish list are by Herbivore. I read an article on some beauty website (can't remember which one) about blue tansy and how it is supposed to be amazing for your skin. One of the products mentioned was Herbivore, so I went to Sephora to see if they had it. I found their Lapis Oil Balancing Facial Oil, which is supposed to help soothe redness while hydrating and clarifying the skin. I LOVE the sound of that. They also have a Blue Tansy AHA + BHA Resurfacing Clarity Mask that sounds great. Both products have amazing reviews. I think if I could only buy one product during the sale, it would be one of these. The oil is $74 and the mask is $48. Definitely not cheap.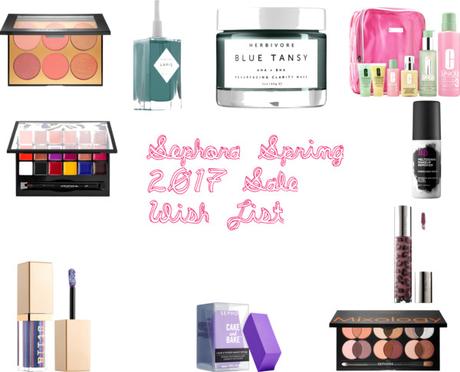 Sephora Spring 2017 Wish List by kristen-noel-williford featuring a facial mask


Herbivore face care
sephora.com




Herbivore facial mask
sephora.com




Laura Mercier beauty product
sephora.com




Urban Decay beauty product
sephora.com




Anastasia Beverly Hills lip makeup
sephora.com




Sephora Collection eyeshadow brush
sephora.com




Sephora Collection makeup
sephora.com




Stila eyeshadow
sephora.com




Sephora Collection makeup tool
sephora.com




CLINIQUE Great Skin Everywhere Skin Types 3, 4
sephora.com





Clinique seems to be one skincare brand I can consistently rely on to make my skin look better and not irritate it. Sephora has their 3-Step Line in a kit where you get three full sized items and three travel sized ones. I have only tried their Acne Solutions line, which does work wonders. I've also tried a couple of their moisturizers and liked them. Since my skin is behaving too badly right now (knock on wood), I want to give this a try. It is $66 and called Great Skin Everywhere and they have it for skin types 3 and 4.
Urban Decay has released a bunch of new skincare products, but I am particularly interested in the Meltdown Makeup Remover Dissolving Spray and the fact it only has three ingredients. It seems to have good reviews so far, so I want to see if it works just as well for me.
Laura Mercier has a new lip varnish in some pretty cute packaging. I still love a good liquid lipstick, but there is just something about a shiny lip in the spring and summer. It comes in 6 colors and I am thinking about getting one for my mom. She loves a pink gloss, and animal print is her favorite.
I can still remember when the Beauty Blender was the only (well, only good) makeup sponge out there. Now there are countless brands and variations of makeup sponges. One of the newer versions is by Sephora Collection x Vera Mona and it is designed specifically for baking. It has sharp edges, so it would be great for cleaning up your contour or stamping out a wing.
I haven't been impressed with Sephora's brand of makeup in the past, but their new Mixology Eyeshadow Palette has me intrigued. The layout of 6 trios is appealing and so far it has great reviews.
I need, not want, one of the summer colors from Stila's Magnificent Metals Glitter Liquid Eyeshadows. I have the shade Kitten Karma and I really want one of the new shades. I just don't know which one yet.
I've seen a lot of lip swatch videos for the new Anastasia Beverly Hills Lip Palette. I normally don't go for lip palettes, but I love that this one gives you everything you need to create your own colors.

Last but not least is the new Sephora Collection Contour and Blush Palette. The colors in this palette look perfect for spring and summer. I'm not even a huge blush fan and this appeals to me.
What products do you have your eyes on? I'd love to hear!