My mom and I found a lot of great things at Sephora that were actually on sale.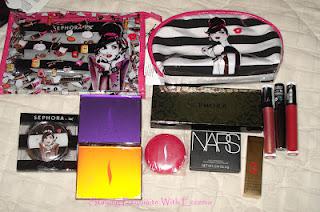 The main items we wanted to get were the bags and mirror designed by Izak Zenou.  All of them were recently marked down. The mirror was $5, the clear bag (which has a smaller one inside) was $11 and the dome shaped bag was $7.  I love Izak Zenou's drawings and these bags are really nice.  Sturdy, good size and they will be easy to clean.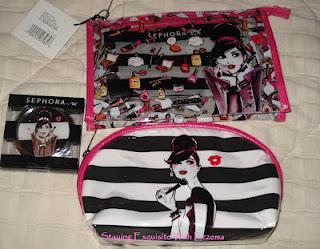 Next are the Sephora Collection Hot Hues Baked Eyeshadow Palette in Burnished Cocoa and Vivid Mulberry.  These were on sale for $7 each.  It seems that the Sephora Collection shadows are getting a lot better in quality, and these seemed really nice, too.  The texture is nice and the pigment seems to be, too.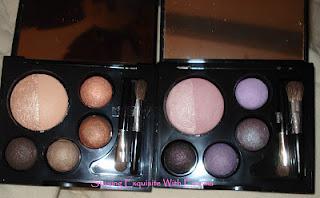 Burnished Cocoa and Vivid Mulberry
Next is this cute little compact mirror that we got for $3.  It is a nice mirror, but it is a bit small.  Not something would want to use to apply makeup with, but would be find for applying lip gloss or the unfortunate but necessary tooth check.  Wearing spinach or lipstick where it should not be is never okay.
Also pictured is the YSL Glossy Stain in #15 Rose Vinyl.  This is actually my mom's, but I wanted to throw it in here because it is a fabulous product and lovely pink color.  I will have a review for Rose Tempura up soon  I also picked up Sephora's Lash Perfecting Primer. This is my third one, so I have them stockpiled because they are just as good as more expensive ones.  They are marked down to $5.  Hopefully Sephora is just reformulated or something rather than discontinuing this product.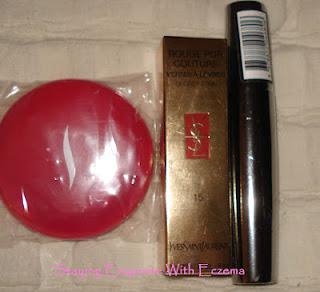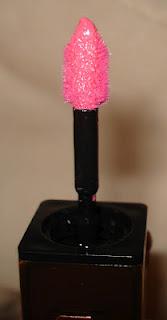 I feel guilty about getting a NARS duo after not liking Strada.  That eyeshadow broke my heart.  But South Pacific has amazing pigment and the texture seems great.  Plus I do not have any shades like this in my collection.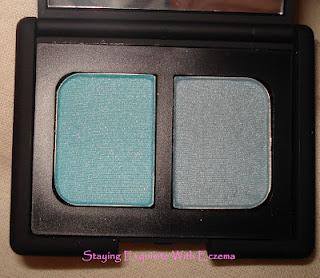 Next up are the Sephora Collection Crystal Glosses for $5.  I picked out Forbidden Move and my mom got Passionate Dance.  Forbidden Move looks to be a pinky coral with gold shimmer and Passionate Dance is a bright pink.

Forbidden Move and Passionate Dance
Last is the Sephora Primal Instincts palette.  Based on in store swatches, I think it will actually be a pretty good palette.  Unlike other neutral palettes, this includes some other shades including a few purples/mauves.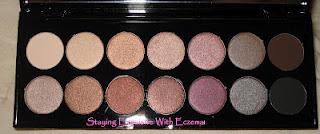 And not pictured is the sample of Guerlain's newest fragrance La Petite Robe Noire.  It smells divine and has good lasting power.  So much so, I am saving money so I can get it when it comes out.  I love the hint of black cherry, black tea and licorice.  It has light, but unique scent. 
Stay tuned for an FOTD using some of the products :)