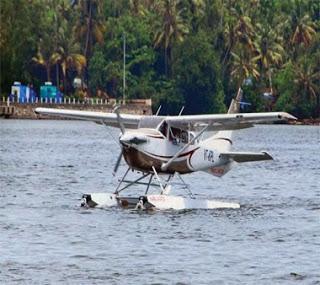 Thiruvananthapuram: Even after the tourism season is over, the much hyped about the plane service in the state Kerala, remain doubtful. The government and the tourism department has projected seaplane as the major tourist attraction and this would surely help in the boost of the tourism in the state.
The weather is not suitable due to the rainfall and so the operation of sea plane seems is a matter of concern. The committee appointed to look into the matter expressed concern and has yet to submit its final report. Kairali Aviation, which initiated the maiden service on June 2nd, is now spending Rs. 10 Lakh every month for maintaining the aircraft and also paying wages of the pilot and other managing staffs.
According to the sources, it is found that it will take at least take another two or more weeks for the expert committee to submit the report. The government is on the verge of taking the decision only after evaluating the decision of the committee report. So it may take at least a month to make any decision on the matter.
"The committee is looking into the matter and conducting a detailed study into the concern matter of the fishermen and so it is taking some time in order to finalise the report," said Mr. S. Anilkumar, managing director of kerala Tourism Infrastructure Limited (KTIL). The committee is conducted and headed by Dr Madhusoodhana Kurup Vice Chancellor Kerala University of Fisheries and Ocean Studies.
Beside Kairali Aviation, other agencies that have shown interest to operate sea planes in the state are Wings Aviation, Turbo Aviation, Maritime Energy Heli Air Services (MEHAIR) and Pawan Hans. In the view of uncertainty, the agencies have shelved their plans for the time being. Kairali Aviation has also shelved its plan to take a second aircraft looking into the uncertainty of the plans.