Happy Fourth of July Friends! What do you have planned today? I am going to a party my sister is hosting tonight. She has a gorgeous house on the water and is planning to set off a frightening amount of fireworks tonight. Fingers crossed that it doesn't rain!

Photo Credit: forgoodnessgrape.com

For day #4 of my week long celebration I am going to share with you one of my all time favorite beauty products. Yes, you read that right. For Goodness Grape makes one of my favorite beauty products!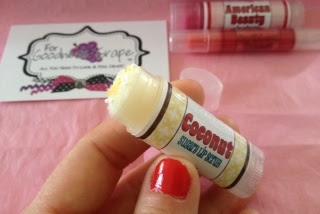 Drool....
Meet For Goodness Grape's Sugary Lip Scrub in Coconut Sugar. Whatever I write will not do this product justice. You really need to experience how amazing it is for yourself. I first tried this product in Vanilla Cake Batter last year. I was instantly obsessed with it. It took on a life of its own. The only way to describe my dedication to the scrub is by comparing it to how I feel about my phone. Always with me, always using it. If it is not near me I immediately panic and begin frantically searching for it. I cannot rest until I find it. So I guess maybe I have a problem. Whatever.
My Vanilla Cake Batter met a horrible demise when I left it on my dining room table before going to work one day. I realized my mistake when I got to my office, and I missed it all day long. When I got home, I made a bee line for the dining room table only to see that it wasn't there. I dropped to all fours and started crawling around on the floor thinking maybe it fell. My search led me to my husband's giant dog's bed. There, on his bed, was what remained of my sugar scrub. A mangled, chewed up tube. He had licked it clean.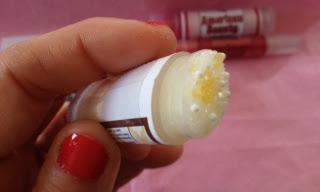 The Sprinkles!
For Goodness Grape's Sugary Scrub is a super yummy way to exfoliate your lips. They are portable and not at all fussy or messy. To use, you simply swipe the product on your lips in a gentle back and forth motion. When you stop you will have remnants of balm and sugar on your lips. Maybe some sprinkles. So do what any smart sugar lover would do. LICK IT OFF! The scrub is safe to eat so licking all of the delicious sugar off of your lips seems like the best way to deal with the sugar left on your lips.
For the ultimate moisturizing experience, follow your scrub treatment up with one of For Goodness Grape's lip balms. Your lips will feel amazing!
I really think that you don't really realize how much you need a lip scrub until you try one. I know I didn't until I felt the difference using one made on my lips. Plus, your lipsticks will apply more evenly which is a nice bonus. Flaky lips, chapped lips and lipstick are not friends.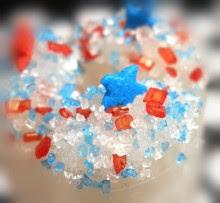 Firecracker Sugary Scrub in honor of the 4th.
Photo Credit: forgoodnessgrape.com
Sugary Lip Scrubs come in a bunch of flavors and are made out of the same ingredients that the lip balms are made out of except the entire tube is packed with sugary goodness throughout for a stellar scrubbing experience  The product is also topped with extra sugar and/or sprinkles and are quite a sight to behold.
I highly recommend this product and know that I will continue to keep it in my beauty routine. 
Now for Day #4's giveaway! Give the Rafflecopter a few seconds to load!

a Rafflecopter giveaway