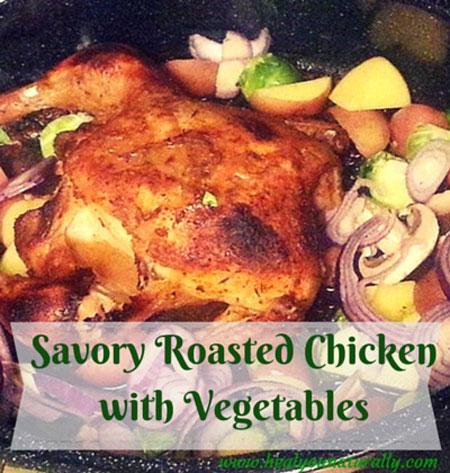 Chicken recipes come in different colors and sizes. Some people add dry rubs, or put them in their favorite brine, or simply add the basics. However, if you are looking for a savory, moist, flavor bursting-type-of-roasted- chicken, this is going to be your new go to recipe.
I can't describe how delicious this was! Yes, it may take a bit of preparation but the end result is well worth every minute of it. When you cook your own food, you know what's going into it. Therefore, what you are putting in your body.
Ok with the sermon out of the way- let's get back to that decadent roasted chicken...
This roasted chicken recipe is one of the best and juiciest roasted chickens I have ever made. Was it the time I marinated it for? or the quality of the pastured chicken? Or the Kombucha instead of wine? I think it was a combination all of those things that made this chicken a success.
By the way, a great thing about pastured chickens is that- they do not smell. When a chicken is fresh, it won't have that strong chickeny smell- a s I refer to it. It really makes a big, big difference.
To keep meals healthier, marinate chicken in seasoned fruit juice or Kombucha (it isn't bad as I have used beer or wine in marinades) Ha! You can also use chicken broth instead of oil-based marinades before grilling or broiling.
Savory And Easy Roasted Chicken with Vegetables
Ingredients
3-4 lb organic pastured chicken find pastured chickens here
1/4 lb pastured butter
For The Marinade (Wet Ingredients)
1/4 cup of kombucha (Trust me this replaces the wine but is amazing)
Juice of one lemon
1/4 orange juice
1 tsp coconut aminos find coconut aminos here
1 tbsp mustard
(Dry Ingredients)
1 tsp Himalayan salt
Mixed pepper to taste
Fresh Thyme
Dash of Italian herbs mix
1/2 tbsp paprika
1/2 tsp turmeric
1/2 tsp garlic powder
The Vegetables
1 cup brussel sprouts (halved)
1/2 cup diced brown mushrooms
1/2 cup finely diced red onion
6 small red potatoes
Instructions
(Day before cooking)
Rinse the chicken thoroughly inside and out. Remove any pin feathers, fat and pat the outside dry. (Remove giblets if any). Set aside.
The Marinade
In a large mixing bowl add the wet ingredients frist. Add the dry ingredients next, and whisk until all ingredients have fully incorporated.
Wear gloves then proceed to rub the marinade all over the chicken-- including inside thoroughly.
Put in the refrigerators just so all of those juices and flavors saturate the chicken meat. Turn bird once or twice before cooking.
Let it sit overnight or even longer.
(Next Day- Cooking)
Take butter out of the fridge so it will be room temperature and ready to be used shortly.
Preheat oven to 450 degrees F(230 degrees C) and cook whole (thawed) chicken for 10-15 minutes. Then reduce the temperature to 350 degrees F (175 degrees C) and at this point you are going to roast the chicken for 20 minutes per pound.
Here is where you use the butter. Grab a piece of butter and carefully insert it under the skin in different areas of the chicken. +
In a roasting pan (I used my turkey roasting pan) place the chicken on the rack. Pour some of the marinade evenly. If you have any left save it and add it 15 minutes or so later. (Here
And the vegetables? I actually like to add the vegetables 15-20 minutes into cooking the chicken. However, you can spread the vegetables and potatoes at the same time you with the chicken.
Notes
**Always store chicken in the fridge while it marinates, even if you only plan to let it soak for 30 minutes. + Oh this tip will come handy for us rookies ha: Tie the together with kitchen string and tuck the wing tips under the body of the chicken. source
http://www.healyounaturally.com/savory-and-easy-roasted-chicken-with-vegetables/
Comments
comments