It was the perfect mid-May weekend of warmer temperatures (a few thunderstorm in there too, but out garden needs the rain) and we are in for shock the rest of the week. Hello temperatures back in the 50's! Brr. That's about 20 degrees below normal. Could we ever just have a week of nice normal temps, it hasn't happened in a while.
With those colder temperatures I was craving something warm and hearty. This sausage, bean and mushroom ragu really hit the spot. Serve this in a big with a hunk of crusty bread and you might feel like it's a chilly February or March day again.  Let's hope these temperatures get back to normal quickly!
Don't skip the hot Italian sausage, it really does add fantastic flavor. It's not too spicy but just adds a nice kick. I added a pinch of red pepper flakes too to make my spicy food loving Husband happy. This is great served with a glass of the wine you opened to make the dish… you wouldn't want any wine to go to waste.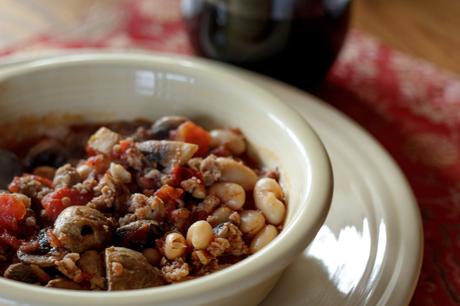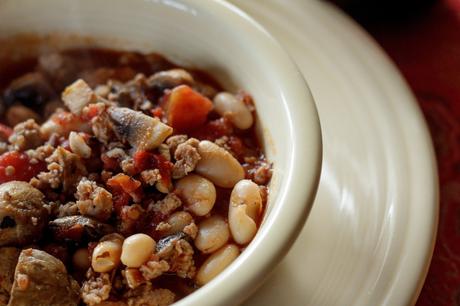 Sausage, Bean and Mushroom Ragu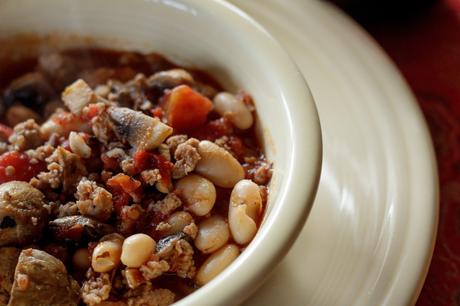 Print
Author:
A Fit and Spicy Life
Ingredients
3 links hot Italian sausage, casing removed
1 tbsp olive oil
1 onion, finely diced
1 tbsp tomato pasta
2 cloves garlic, minced
⅓ cup red wine (I used a Cab)
¾ cup chicken broth
Salt/Pepper
⅛ tsp crushed red pepper
1 can fire roasted tomatoes
1 can cannellini beans, rinsed and drained
8 ounces baby portobello mushrooms
1 tsp dried oregano
Instructions
Heat a large skillet over medium heat. Add hot Italian sausage and brown. Remove from pan.
Add olive oil and cook onion for 2-3 minutes. Add mushrooms and cook an additional 2-3 minutes.
Stir in tomato paste and garlic too coat onion and mushrooms.
Pour in wine, scraping up the browned bits on the bottom of the pan.
Add in chicken stock, salt/pepper, diced tomatoes, beans and stir to combine.
Add turkey sausage back in and cook for 8 to 10 minutes or until reduced.
Stir in oregano and serve.
3.2.2925