Alaska Salmon Salad Sandwich
The great thing about salmon is that it can be integrated into any any recipe and it`ll just taste awesome. After trying this healthy lunch ideas recipe I am now wondering why I haven`t tried it before, I am not saying that it tastes out of this world but the thing is, it is different and unique. Salmon salad sandwich is a light recipe and is just perfect for any occasion. Your guest will just love it and so will the kids. Plus the bonus point is this Alaska salmon sandwich recipe can be made within a matter of mins and can easily substitute your otherwise healthy lunch ideas or healthy lunch meal. Try it and enjoy it!
Ingredients:
15 1/2 ounces canned Alaska salmon
1/3 cup plain non-fat yogurt
1/3 cup chopped green onions
1/3 cup chopped celery
1 tablespoon lemon juice
Black pepper, to taste
12 slices bread
Directions:
Drain and flake salmon.
Stir in remaining ingredients except pepper and bread.
Season with pepper to taste.
Spread salmon mixture on half of bread slices; top with remaining bread.
Cut sandwiches into halves or quarters.
Makes 6 sandwiches.
Enjoy!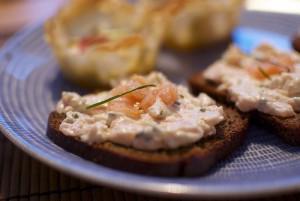 Photo by: marikoiv